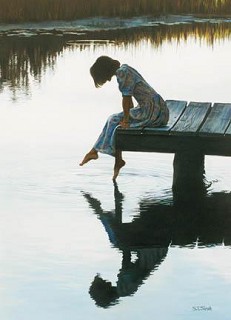 Enlarge Image

Change Wall Color
Tweet
Tom Sierak Silhouettes Giclee
Status: Available | Condition:New Unframed Art | Edition:Limited Edition | Edition Size: Limited Edition 350 | Dim:18 x 24 | Tom Sierak | Item #: silhouettesg
Price:$375.00
Tom Sierak Silhouettes Giclee
is eligible for layaway in 3 equal payments of $125.00 over 60 days.
4/25/2014 $125.00 1st payment
5/25/2014 $125.00 2nd payment
6/24/2014 $125.00 3rd & final payment
payments are automatically deducted from your credit card.
Available for purchase as of: April 25, 2014
As an option you may also pay for Tom Sierak Silhouettes Giclee using Paypal, or Amazon Payments. Please note that all orders must be delivered to a physical address verified by Paypal and Amazon. This PayPal/Amazon option is not applicable to orders to be delivered to Military or International orders.
"A stillness descends over the lake as mother nature dims the lights on another day. Basking in the serenity of the moment, a young lady, totally lost in her thoughts, "writes" her day's diary on the glassy surface."
NOTES: Limited Edition Giclee
Silhouettes Giclee , by Tom Sierak Tom Sierak
share with us
Share your thoughts and comments on Silhouettes Giclee by Tom Sierak Find us on Google+
Tom Sierak bio
Painting tomorrow's memories today"... that's how Tom Sierak likes to describe his pastel paintings. He says, "People often talk about the good ol' days and how nice it would be to return to them. I believe that the times we live in and have lived in, are always the 'good ol'days. Although people, places, and things may change around us, the bonds that exist between children, parents, grandparents, and close friends never do. I enjoy painting those seemingly uneventful daily occurrences of warmth and emotion that make up the whole fabric of our lives. Like the artists before me, I imagine my late 20th century and early 21st century portraits of everyday life in today's America will some day provide future viewers' of my work a window into their past." The New Englander's medium of choice is pastels. He feels that they're just starting to receive widespread recognition. Tom says, "I favor pastels because I'm able to draw and color simultaneously, and I love to draw. It's a great combination for me." Pastels are made from the same pigments used for oil paints. A binding agent is added to create a chalk-like stick, which is applied to a textured surface, usually paper. Available in many vibrant colors, pastels maintain their just-painted look indefinitely, unlike oils, which can crack and darken over time. "It's an unfamiliar medium to many people, and I'd like to do my part to help change that," says Sierak. A Graduate of the Vesper George School in Boston, Tom's work is published worldwide as wall prints, greeting cards, puzzles, cross stitch kits, note cards, & collector plates, to name a few.