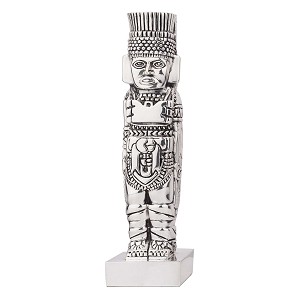 D'argenta Sculptures
Discover our diverse home decor pieces and find unique gifts. From luxury to every day products, our quality and craftsmanship are unparalleled. Precious metals, silver, gold & copper used in perfect harmony. Acquire unique silver leopard statues, gold deer sculptures, a silver basket, handmade by artisans, perfected by ours. Shop for a robust lion statue, produced with the utmost attention to detail. Discover the ancient world, Aztec Art, Mayan Art and other legendary World Art! Don't forget our Photo Frames, Flower Vases and Fruit Bowls for the home design of your dreams. For every room, every season, every day,
Since its establishment in Mexico in 1980, D'ARGENTA has designed, produced and commercialized sculptures, objects d'art and decorative pieces. Their manufacture is accomplished through a proprietary silver and twenty-four karat gold-plating process on copper. The company's ever-growing product line of more than 200 models. It consists of limited edition sculptures signed by the artist, reproductions of Pre-Hispanic Art --authorized by the National Museum of Anthropology-- and other ornamental pieces of various origins.

D'ARGENTA's products have been exported to more than 25 countries throughout the world and were honored, in 1981, with the coveted Bulgarian Government Gold Medal award. In 1992, a sculpture made by D'ARGENTA was bequeathed to His Royal Highness Prince Naruhito of Japan during his visit to Mexico. Other dignitaries such as Pope John Paul II, Prince Phillip of England and his Majesty King Harald of Norway have also received D'ARGENTA sculptures.

D'ARGENTA has traditionally been present at the biannual International Fair in Frankfurt, Germany. A D'ARGENTA's sculpture was chosen to grace the cover of the Fair's magazine in its August 1992 issue.
Buddhist Art traditionally depicts Buddhas, bodhisattvas, notable figures, both historical and mythical; as well as narrative scenes from the lives of all of these; mandalas and other graphic aids to practice. Currently we have a small collection, but as we learn more, our collection will grow with our passion to craft unique objects.
Christian art is sacred art which uses imagery and especially the Cross as a powerful symbol. Some of the themes that we use in our pieces are the Last Supper, Nativity, various Crosses from Pedro Ramirez Vazquez, Pope John Paul II and most prominently the Virgin of Guadalupe, with a stunning 24 karat gold Aura. We have done also custom art pieces and life size reproductions, contact our Concierge if you wish a custom art piece for you.
Wild Life - Since the early times, humanity, have never stopped trying to engineer and craft objects that may serve a purpose to us in our daily lives. Humanity has shown a great deal of creativity and ingenuity in order to shape the society we live in today. But more and more, we find out that next to us live an infinite source of knowledge and ideas: nature. Animals and plants are indeed millions of years old, and with evolution behind them, they show a perfect fitting into their environment. In the last 50 years, we have been keen observers of Nature, studying and perfecting every time we strive to mimic nature's creations to make a unique piece of art, a simple but beautiful representation of all the perfection that surrounds us. We celebrate that perfection and wish share it with the world with our passion for Beauty, Art and Craft to bring nature closer to you.
Hindu art reflects this plurality of beliefs, and Hindu temples, in which architecture and sculpture are inextricably connected, are usually devoted to different deities. Deities commonly worshiped include Shiva the Destroyer; Vishnu in his incarnations as Rama and Krishna; Ganesha, the elephant god of prosperity; and different forms of the goddess Shakti (literally meaning "power"), the primordial feminine creative principle. These deities are often portrayed with multiple limbs and heads, demonstrating the extent of the god's power and ability. Hindu art is also characterized by a number of recurring holy symbols, including the om , an invocation of the divine consciousness of God and the lotus flower, a symbol of purity, beauty, fertility, and transcendence.
Human Creations - Humans are creative, curious and passionate. We have created cars, masks and sailboats to discover the world, and our sculptures celebrate humanity.
Jewish ceremonial art, also known as Judaica, refers to an array of objects used by Jews for ritual purposes. Jewish Art has a long tradition of being commissioned for ritual objects from craftsmen and artists to which end we strive for perfection. Our collection has several judaica and items that reminds of the Holy City of Jerusalem, central part to jewish life. Kiddush Cup: To sanctify the wine. Shabbat Candle Holders. Challah bread board. The menorah: used on the Jewish holiday of Hanukkah.
Wildlife - Discover the Silver Statues and Gold Sculptures of Animal Art, Prehispanic Cultures and Human Art