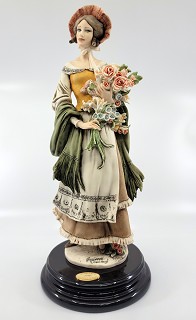 Giuseppe Armani Finish Description
Armani "C" Finish - A brilliantly luminous, full-color finish requiring the kinds of painterly skills and sensitivity that are needed to achieve artistic levels which enhance an Armani sculpture.
Armani "E" Finish - The highly decorative coloration of the "E" finish is both charming and delightful. Original patterns and striking mosaic effects make this a most unique finish.
Armani "F" Finish - Uses one color (e.g. white or any of the other restrained tonalities). The flesh tones of the figurine's exposed skin are dominant.
Armani "L" - The Armani Luxury Collection features a finish developed by the artists of Florence Sculture d'Arte to meet the tastes of those people, who are looking for sophisticated, elegant figurines. The special glazed surface gives the sculpture an entirely new life, which in combination with the very delicate pastel colors creates an intriguing harmony, and makes this collection a perfect complement to every contemporary decor.
Armani "M" Finish - Is a metallic (bronze) finish covering a select few of Giuseppe Armani/ Florence Sculture d'Arte's sculptures. This elegantly classic bronze finish accentuates and highlights each of these dazzling sculptures.
Armani "P" Finish - Is characterized by the use of delicate, pure-pastel hues. Harsh and/or dramatic color-contrast do not happen here. Instead, colors blend and meld creating a soft and calming effect.
Armani "S" Finish - Is the designation used for the African-American figurines. The "S" finish also denotes the "Wildlife" series. Careful observation and focused evaluations of naturalistic color variances guided the selection of this special finish which is difficult to achieve.
Armani "T" Finish - The soil of Tuscany, the "art" region of Italy, abounds in clay. In its raw state, clay is grayish in color. When fired, some clay becomes a warm, brick-red; other clays of the region become a warm, earthy taupe when treated. Clay that has been processed is called "Terra-Cotta" (which in Latin means "fired earth"). Innumerable works of art have been formed from this terra-cotta. It is believed that only in the medium of terra-cotta can one actually sense the hands of the artist molding his sculpture. This particularly prized material has inspired the "T" finish of Giuseppe Armani and the Florence Sculture d'Arte.
Canvas Repligraphs: These wonderfully textured limited edition wall art paintings are painter-artist's interpretations of fabulous sculptures created by Giuseppe Armani/Florence Sculture d'Arte.
Artist Proof: is a proof of an artwork (2 or 3 dimensional) of the original work of art that the artist himself created. It is called "Artist Proof" because unlike subsequent replications, this proof was seen by the artist and signed off by the artist him/herself as one that meets his/her very specific and stringent requirements. Often these hand-signed APs are considered valuable in and of themselves and are priced accordingly.
Signed / Artist Signed: these are pieces that were personally signed by Giuseppe at Store signing events proir to his passing. These are very coveted pieces.
Giuseppe Armani Figurines offered by The Collection Shop Gallery are the original designs manufactured only in Italy. They all come with their original box. Only Limited Edition Sculptures are issued a Certificate of Authenticity