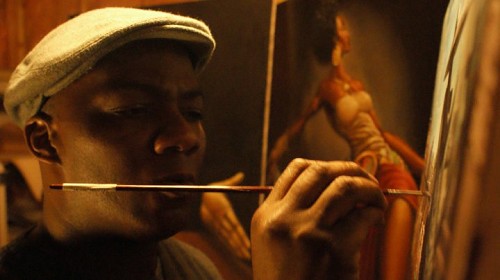 Represented by The Collection Shop Updated on Saturday, July 2, 2022
Frank Morrison Born in Massachusetts then brought by his family to live in New Jersey at an early age, Frank Morrison was reared and spent his formative years there, an affable, precocious and inquisitive youngster whose curiosity about everything around him seemed limitless. Then, as an energetic pre-teen, he was interested and enthused by the youthful fads, interests and activities which marked his world: the neighborhood D.J's with their followers and fans at neighborhood parties, the colorful tags of local characters which were splashed across fences, parks and buildings, and the loose-jointed "B" boys and break-dancers who enlivened week-end party scenes. In this setting his world was suddenly rife with possibilities and he became convinced that he, too, could DO this!

In no time, invested with a brilliant flow of creativity, his eye for and execution of colorful tags and R.I.P scenes began to bring him considerable street recognition and local acclaim. But what soon pleased him more was his mounting reputation as a "B" boy--break-dancing, popping and locking with such skill and control that he became a regular on the dance crew of R & B star Sybil. After a couple of years traveling with her, he joined the touring crew of The Sugar Hill Gang, appeared on "Show Time At The Apollo", performed on the video "Rap Mania", and with the dance company of the movie, "New Jack City". In fact, it was while dancing and touring the nation and European continent that he chanced to visit The Louvre Museum in Paris that he "met his Muse". As he walked the halls there, he was consumed by what he saw. Looking at the work of the Masters in The Louvre, he was reminded of what he had unconsciously reached for in his sprawling graffiti pieces; he recognized realms of color, style, passionate expression and possibilities that he had never before imagined. Upon returning to New York, Morrison became a regular at local museums and galleries--knowing that he had to return to his art. With a renewed vision and an informed eye, the still teen-aged Morrison followed his heart, began the development of an expressive style of his own, crafted his first portfolio, and set out to market his paintings. One need take only a cursory view/examination of his portfolio or his work en gallery to find that his power and inspiration are products of his deeply religious grounding and his loving commitment to his family. His innate musicality, natural rhythmic bent and intrinsic understanding of physical/spiritual/emotional expression both invade and explode from his paintings. Notable collections of Morrison s art are owned by former New York City School Chancellor Rudy Crew, New Orleans Senator Gregory Tarver, renown actor/philanthropist Bill Cosby who prides himself on nurturing the talents of emerging African American artists, and Dr. Lorraine Hale among others. His work has enhanced the settings of televisions shows "Malcolm and Eddie", "New York Undercover", "Cosby" and has been a featured artist on the Home Shopping Network. Morrison has received commissions from the irrepressible radio/TV commentator Tom Joyner, the Essence Music Festival in New Orleans, and executed serially mounted musical scenes for the compact discs "Impulsively Ellington: A Tribute to Duke Ellington. and Down-to-the-Bone s "Crazy Vibes and Things". His artwork has been displayed in prestigious locales shows such as "The National Black Fine Arts Show" produced by Jocelyn Wainwright, at the Savacou Gallery in Manhattan, and was honored and given a one-man show at the Schomburg Center for Research in Black Culture sponsored by ESSENCE ART and Toyota. He earnestly declares that he is rendered speechless with pride when he finds his work displayed adjacent to and in conjunction with Romare Bearden originals. His initiatives include publication of two illustrated children s books "Zazzy Miz Mozetta" and "Harlem Morning". Which will be readied for publication in fall 2004. Morrison s work is inspired, not only by his rich and varied life experiences but, by his love and gratitude for his family--his wife Connie, three sons and a daughter and the omnipresent Hand of God. Each of his paintings bears his signature, of course, accompanied by the notation "TTG" representing and reminding all of his "Thanks To God" for the blessings of his gifts--his family and his talents.