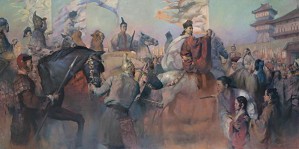 Enlarge Image

Change Wall Color
Tweet
HongNian Zhang Return Of Zhang Qian By Hongnian Zhang Giclee On Canvas Artist Proof
Status: Available | Condition:New | Edition:Limited Edition | Edition Size: Limited Edition Of 15 | Dim:18 x 36 | HongNian Zhang | Item #: HZH002GIAPR1836
Price:$495.00
HongNian Zhang Return Of Zhang Qian By Hongnian Zhang Giclee On Canvas Artist Proof
is eligible for layaway in 3 equal payments of $165.00 over 60 days.
4/25/2014 $165.00 1st payment
5/25/2014 $165.00 2nd payment
6/24/2014 $165.00 3rd & final payment
payments are automatically deducted from your credit card.
Available for purchase as of: April 25, 2014
As an option you may also pay for HongNian Zhang Return Of Zhang Qian By Hongnian Zhang Giclee On Canvas Artist Proof using Paypal, or Amazon Payments. Please note that all orders must be delivered to a physical address verified by Paypal and Amazon. This PayPal/Amazon option is not applicable to orders to be delivered to Military or International orders.
Return of Zhang Qian by HongNian Zhang Giclee on Canvas Artist Proof
NOTES: HongNian Zhang is renowned for historical paintings of his native China. Zhang Qian was the first, official diplomat of China in the second century BC during the Han dynasty. Traveling throughout Central Asia, he brought back information to the imperial court that opened a new world of commercial trade to China. In this colorful, outstanding work, Zhang Qian triumphantly returns from his long journey. The brave envoy was honored with the position of palace counselor, and today he is considered a national hero.
Return Of Zhang Qian By Hongnian Zhang Giclee On Canvas Artist Proof , by HongNian Zhang HongNian Zhang
share with us
Share your thoughts and comments on Return Of Zhang Qian By Hongnian Zhang Giclee On Canvas Artist Proof by HongNian Zhang Find us on Google+
HongNian Zhang bio
HongNian Zhang is an internationally known Chinese American artist who works in the Western academic tradition. His paintings are in private, corporate and museum collections in America, Europe and Asia. His work was included in Sotheby's first American auction of Chinese contemporary art, held in New York City in March 2006. Born in Nanjing, China, Zhang's artistic training began at age nine. At fourteen he was the top student accepted to the Central Art Academy Affiliated High School in Beijing, China. After graduation, the Cultural Revolution shut down the schools and Zhang was sent with his class to the remote countryside for four years of forced labor. Upon returning to Beijing in 1973, he became the youngest artist employed by the Beijing Art Academy, and in 1979 the youngest member ever elected to the All China Artists Association. As leader of the "Scar" art period, an important artistic movement in China exposing the painful memories of the Cultural Revolution, three of Zhang's paintings were acquired for the Chinese National Art Gallery's permanent collection. In 1984, he was accepted to the highly selective MFA program at the Central Art Academy. In 1985, Zhang came to the United States to continue his study in art. Represented by New York'sGrand Central Gallery, Zhang was in their acclaimed 1986 show, Realism from China, the first exhibit to introduce Chinese oil painting to the Western world. After moving to Woodstock, New York in 1991, Zhang continued working in the realism tradition, yet expanding his subjects from Tibetan to a wide range that include Chinese and American historical paintings, and contemporary American subjects. He taught for several years in the graduate program of the New York Academy, and at the Woodstock School of Art. His works have appeared in many publications, including National Geographic, Fine Art Connoisseur, and Artist magazines. National Geographic Society acquired four of his Chinese historical paintings for their permanent collection. Zhang and his wife, Lois Woolley, co-wrote The Yin Yang of Painting, which presents his unique artistic approach and style for oil painting.