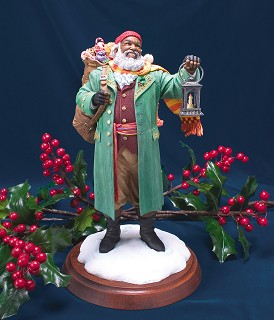 Enlarge Image

Change Wall Color
Tweet
Ebony Visions The Gift Giver First Issue
Status: Retired | Condition:New | Edition:Limited Edition | Edition Size: Limited Edition | Dim:12 1/4 | Ebony Visions | Item #: 37126
Price:$395.00
Ebony Visions The Gift Giver First Issue
is eligible for layaway in 3 equal payments of $131.67 over 60 days.
4/24/2014 $131.67 1st payment
5/24/2014 $131.67 2nd payment
6/23/2014 $131.67 3rd & final payment
payments are automatically deducted from your credit card.
Available for purchase as of: April 24, 2014
As an option you may also pay for Ebony Visions The Gift Giver First Issue using Paypal, or Amazon Payments. Please note that all orders must be delivered to a physical address verified by Paypal and Amazon. This PayPal/Amazon option is not applicable to orders to be delivered to Military or International orders.
The Gift Giver - A hearty laugh "Ha, Ha, Ha" bellows form the belly of The Gift Giver. He bestows happiness on all who recive his special gifts.
NOTES: Only Thomas Blackshear could create a totally new, refreshing and appealing portrait of Santa Clause like the Gift Giver. Rejected traditional Christmas clichés, Thomas has created a true Ebony Visions Santa, one whose joyful spirit radiates in his bearded face as he raises his lantern to spread hope and cheer in the darkness. "He is Santa Clause," Thomas says, "but he is a unique Santa Clause," One of the ways Thomas differentiates his Santa was through a unique color palette that coordinates with other Ebony Visions designs. "His coat is a sage color, his vest is burgundy, his hat is red and he's wearing a scarf around his neck that's really different," Thomas says. With his fingerless gloves and colorful sash, The Gift Giver is dressed in clothing that is timeless, giving him what Thomas calls " a bit of mystery," "I want people to be able to identify him as Santa – but a Santa that's done in a whole new way," Thomas explains.

The Gift Giver, Retired December 31st,2005 with a final production quantity of 4,300 pieces.
The Gift Giver First Issue , by Ebony Visions comes packed with a Certificate of Authenticity which affirms that this piece is an authentic Limited Edition Sculpture. The Collection Shop is an Authorized Premier Dealer for Ebony Visions
share with us
Share your thoughts and comments on The Gift Giver First Issue by Ebony Visions Find us on Google+
Ebony Visions bio
"I always knew I wanted to create Ebony Visions'. As an artist who happens to be black, I had distinct ideas about what I would like to see in the line." The elegant compeling figurines he created for the collection are a blen of both Art Nouveau and African culture, which Thomas calls "Afro-Nouveau." - Thomas Blackshear .Thomas Blackshear introduced Ebony Visions in April 1995 with the release of the first six Ebony Visions designs, The Storyteller, The Protector, The Nurturer, Siblings, Madonna and Tender Touch. Since then, Thomas Blackshear has created many new designs to add to the Ebony Visions collection. Thomas Blackshear's Ebony Visions collection is a master work of romantic symbolism. As with his paintings, these sculptures demonstrate Thomas Blackshear's incredible sense of design, unique eclectic style, and extraordinary mastery of color. Elegant drapery and delicate detail tantalize the eye while revealing each sculpted form. Thomas Blackshear's Ebony Visions depicts a full range of emotions that are both powerful and at the same time subtle. He deliberately portrays his Ebony Visions figures in a timeless setting in order to transcend a specific time, place, or culture. This unique collection of limited edition figurines emphasizes the beauty of the human form and symbolizes universal aspirations and ideals of humankind depicted through images that reflect the unique characteristics of the African American culture. For centuries classical beauty has been portrayed predominantly by white artisans who represent white subjects in their art. In this romantic and subtle tour de force, Thomas Blackshear creates a new vision of beauty and human emotion, an Ebony Vision.