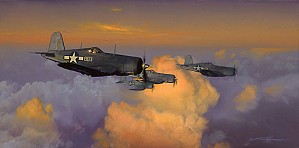 Enlarge Image

Change Wall Color
Tweet
Craig Kodera Pacific Morning: Black Sheep On The Prowl, L.e. Print
Status: Available | Condition:New Unframed Art | Edition:Limited Edition | Edition Size: Limited Edition of 550 | Dim:24 | Craig Kodera | Item #: PACM
Price:$595.00
Craig Kodera Pacific Morning: Black Sheep On The Prowl, L.e. Print
is eligible for layaway in 3 equal payments of $198.33 over 60 days.
4/18/2014 $198.33 1st payment
5/18/2014 $198.33 2nd payment
6/17/2014 $198.33 3rd & final payment
payments are automatically deducted from your credit card.
Available for purchase as of: April 18, 2014
As an option you may also pay for Craig Kodera Pacific Morning: Black Sheep On The Prowl, L.e. Print using Paypal, or Amazon Payments. Please note that all orders must be delivered to a physical address verified by Paypal and Amazon. This PayPal/Amazon option is not applicable to orders to be delivered to Military or International orders.
PACIFIC MORNING: BLACK SHEEP ON THE PROWL, L.E. PRINT
NOTES: Looking for targets of opportunity near Rabaul in the Solomon Islands, 1944, former Maj. USMC "Pappy" Boyington and other Marine Fighter Pilots from the famous VMF-214 Black Sheep Squadron, flew the Vought F4U Corsair. The famed Black Sheep pilots owned the skies in the Western Pacific. Countersigned by LtCol John F. Bolt, USMC (Ret), Col Edwin A. Harper, USMC (Ret), BGen Bruce J. Matheson, USMC (Ret), Col H. Allan McCartney, USMC (Ret), Edwin L. Olander
Pacific Morning: Black Sheep On The Prowl, L.e. Print , by Craig Kodera Is a Limited Edition production signed by the Artist. Comes with a Certificate of Authenticity which affirms that this Art Work is an authentic Limited Edition production from Craig Kodera
share with us
Share your thoughts and comments on Pacific Morning: Black Sheep On The Prowl, L.e. Print by Craig Kodera Find us on Google+
Craig Kodera bio
"Aviation is this artist's living. Painting is a joy and a choice; not his career. Craig Kodera career is as an airline pilot, so each of his paintings reflect an intimate knowledge of how it feels to fly and what it looks like out the cockpit. ""I paint what I see,"" he says,""and my office window is at 35,000 feet."" An appreciation of aviation came easy, since Kodera was raised in what he terms an ""aviation family,"" which included an uncle who flew with the famous Doolittle Raiders during World War II. At an age when most teens were trying to ace the driver's test, Kodera had earned his private pilot's license. A love of painting also came early. Kodera started seriously studying it at fourteen. He graduated from UCLA with a degree in mass communications and spent a year as a commercial artist before joining the Air Force Reserve, where he was assigned to the Air Rescue Service and then the Strategic Air Command. There his knowledge of air war history grew while he logged literally thousands of hours flying. Eventually Kodera left the service and joined American Airlines. When he isn't flying, he's usually painting. His artwork is part of the Smithsonian Institution's National Air and Space Museum permanent collection and hangs in many museums. He is also the charter vice president of the American Society of Aviation Artists, a member of the Air Force Art Program and serves with the Los Angeles Society of Illustrators."