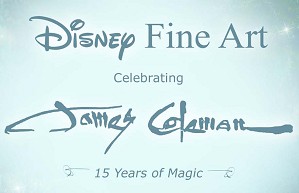 Come Celebrate James Coleman's 15 Years Of Magic
After over twenty years with Walt Disney Feature Animation creating backgrounds for films such as "Winnie the Pooh and Tigger,Too", "The Fox and the Hound","The Great Mouse Detective", "The Black Cauldron", and "The Little Mermaid", just to name a few, James Coleman began his love affair with the fine art world in earnest. This transition helped to launch James on a wonderful, fifteen year journey creating impeccable works of Disney Fine Art. All of us at The Collection Shop, your authorized dealer for James Coleman's Disney portfolio, are overjoyed with this long and loving partnership, and feel that this milestone is very much deserving of a The Collection Shop style celebration!
Please join us in commemorating this special occasion by taking part in the promotions outlined below,

Starting March 17th, every signed & numbered Limited Edition and/or Original Coleman will come with a complimentary anniversary print signed by James Coleman. You may also contact the gallery at 1-800-206-3715 or 305-238-4438 and one of our expert art associates would be happy to take your order over the phone. Both items will ship together and must be delivered to the same billing address used in the checkout process.
One of the above anniversary prints will be randomly selected for every Limited Edition or Original Coleman you purchase, and will be shipped with your order along with an anniversary lottery voucher, that will allow you the opportunity to win one of the following prizes:
Hand-Signed Limited Editions, personally embellished and dedicated by James Coleman -Total of 9
Original Watercolor Studies - 8 x 10 - ($1,500 value) -Total of 5
The Grand Prize: An original James Coleman, acrylic on canvas (16X20) with custom frame! ($24,000 value)
In order for you to be entered into the drawing, you will need to fill out both sides of the anniversary lottery voucher, keeping one half for your records, and sending the other half back to your Sales Associate at The Collection Shop.
The final day to purchase art in order to be entered into this drawing will be January 15th, 2017. The winners will be chosen at random during a special event February 15th, 2017, the details of which will be forthcoming.
Thank you for joining us in celebrating James Coleman's 15 years of painting Disney Fine Art, and here's to many, many more years to come!