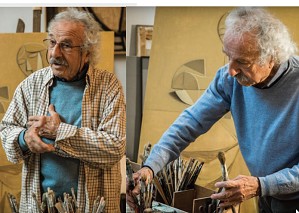 Algora Spanish Porcelain
Manuel and Vicente Sánchez Algora are the names of the twin brothers who founded a porcelain figurine company called Algora in a small town in Madrid called Villaviciosa de Odón, which later went on to acclaim international recognition. These brave artists started their workshop in 1951, in a difficult postwar era and went on to open their first factory in 1975. They chose to keep production small and exclusive, producing a minimum number of the same pieces, and keeping a close control on quality by painting and finishing each figure by hand. With their creativity, hard work, and need for perfection they were able to reach the hearts of many and achieved recognition with their collection of cockfights, witches and classical cinema actors.
In Madrid where they were awarded the recognition of 'Mayores Magnificos' (Magnificent Elders) they explained the precision behind these hand-made porcelain figurines, each made with an exclusive formula, the right components, the correct temperature and heated to for the right amount of time. They claimed that the key to their success was talent, perseverance and an ability to always learn something new, for the more you learn the better you can do your job.