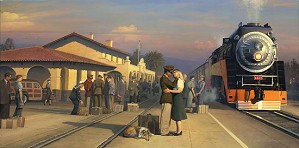 Enlarge Image

Change Wall Color
Tweet
William Phillips I´ll Hold You In My Dreams Masterwork Canvas Edition
Status: Available | Condition:New Unframed Art | Edition:Limited Edition | Edition Size: Limited to 75 | Dim:48 x 24 | William Phillips | Item #: BP00148
Price:$1,250.00
William Phillips I´ll Hold You In My Dreams Masterwork Canvas Edition
is eligible for layaway in 3 equal payments of $416.67 over 60 days.
4/24/2014 $416.67 1st payment
5/24/2014 $416.67 2nd payment
6/23/2014 $416.67 3rd & final payment
payments are automatically deducted from your credit card.
Available for purchase as of: April 24, 2014
As an option you may also pay for William Phillips I´ll Hold You In My Dreams Masterwork Canvas Edition using Paypal, or Amazon Payments. Please note that all orders must be delivered to a physical address verified by Paypal and Amazon. This PayPal/Amazon option is not applicable to orders to be delivered to Military or International orders.
I´ll Hold You in my Dreams, MASTERWORK CANVAS EDITION
NOTES: The American Homefront Series, an episodic look at home during World War II, comprises some of William S. Phillips' most popular and sought-after works. Now, for the first time in over ten years, Phillips has created a new painting in the series: I'll HoldYou in My Dreams, set on a warm winter day just after the bombing of Pearl Harbor in 1941. Our young Army Air Force Lieutenant stands out from the crowd as he bids his girl goodbye.
I´ll Hold You In My Dreams Masterwork Canvas Edition , by William Phillips Is a Limited Edition production signed by the Artist. Comes with a Certificate of Authenticity which affirms that this Art Work is an authentic Limited Edition production from William Phillips
share with us
Share your thoughts and comments on I´ll Hold You In My Dreams Masterwork Canvas Edition by William Phillips Find us on Google+
William Phillips bio
"Phillips grew up loving art but never thought he could make it his livelihood. At college he majored in criminology and had been accepted into law school when four of his paintings were sold at an airport restaurant. That was all the incentive he needed to begin his work as a fine art painter. Bill Phillips is now a renowned aviation artist and the landscape artist of choice for many collectors. Bill's strengths as a landscape painter, a respect and reverence for a time and place, help him when painting aviation as well as classic landscapes. Phillips often spends days observing landscape subjects. Finding companionship with the land, he is able to convey the boundlessness of nature on the painted canvas inspiring a reverence for the natural landscape in its beholders. After one of his paintings was presented to King Hussein of Jordan, Phillips was commissioned by the Royal Jordanian Air Force. He developed sixteen major paintings, many of which now hang in the Royal Jordanian Air Force Museum in Amman. The Smithsonian Institution's National Air and Space Museum presented a one-man show of Phillips' work in 1986. He is one of only a few artists to have been so honored. In 1988, Phillips was chosen to be a U.S. Navy combat artist. For his outstanding work, the artist was awarded the Navy's Meritorious Public Service Award and the Air Force Sergeants Association's Americanism Medal. At the prestigious annual fund raiser for the National Park Service, Bill's work has been included in the Top 100 each year he has entered the competition and his work has won the Art History Award twice. Phillips was selected as the Fall 2004 Artist in Residence at the North Rim of the Grand Canyon and tapped by the U.S. Postal Service to paint the stamp illustrations and header design for a pane of twenty stamps in 1997 entitled Classic American Aircraft. He was chosen again in 2005 for a pane of twenty stamps (ten designs) entitled American Advances in Aviation."