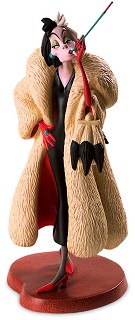 Enlarge Image

Change Wall Color
Tweet
WDCC Disney Classics 101 Dalmatians Cruella De Vil Perfectly Wretched
Status: Retired | Condition:New | Edition:101 Dalmatians | Edition Size: Limited Edition of 3500 pcs | Dim:10 inches | WDCC Disney Classics | Item #: 4005171
Retail: $225.00 Your Price: $185.00
At 18% Off You SAVE $40.00
There is 1 Available of 101 Dalmatians Cruella De Vil Perfectly Wretched at this price.
Sale ends on 5/11/2014 11:59:00 PM.
Available for purchase as of: April 23, 2014
101 Dalmations Cruella De Vil Perfectly Wretched
NOTES: Plussing:
Left Hand: Brass.
Cigarette & Cigarette Holder: Brass.
Left Leg: Pewter.
Right Leg: Brass.
Handle on Purse: Gold chord.
Particulars:
2006 Fall Event sculpture.
Numbered Limited Edition (NLE) of 3,500.
Available through all Authorized Walt Disney Classics Collection dealers and the Walt Disney Theme Parks, September 22-24, 2006.
101 Dalmatians Cruella De Vil Perfectly Wretched , by WDCC Disney Classics is a Limited Edition production. Comes with a Certificate of Authenticity which affirms that this is an authentic Limited Edition production from WDCC Disney Classics
share with us
Share your thoughts and comments on 101 Dalmatians Cruella De Vil Perfectly Wretched by WDCC Disney Classics Find us on Google+
WDCC Disney Classics bio
WALT DISNEY CLASSICS FIGURINES - The Classics Collection started in 1992 with three scenes, Bambi, Cinderella, and Fantasia's Sorcerer Apprentice. Many other series have since been introduced. Some figurines are limited, and some have been retired. Some of these figurines have risen high on the secondary market. The figurines are made of porcelain, and the process is similar to that use to make Hummel figurines. Individual pieces are molded, put together, and fired in an oven. Then they are painted and fired again. Each figurine is marked on the bottom, signifying the year it was produced. The marks represent significant milestones in Disney history. The figurines with the first year mark are usually the most desirable.