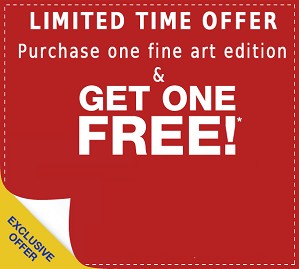 BUY ONE GET ONE FREE OFFER
Gallery Updated on Wednesday, April 01, 2020

Buy 1 Get 1 FREE! View All BOGO Art



For a limited time take advantage of our Buy One Get One (BOGO) Free Event.
Click on the View All BOGO Art button, purchase one fine art edition print or canvas, then select your second FREE canvas or print of equal or lesser value from the same artist. Complete the checkout process. Your credit card will not be charged until your order has been confirmed by one of our gallery representatives.

You may also contact the gallery at 1-800-206-3715 and one of our expert art associates would be happy to take your order over the phone. Both items will ship together and must be delivered to the same billing address used in the checkout process.
Only items that have the BOGO image are eligible for this special event. Below you can see all of the artists that are participating in this program.