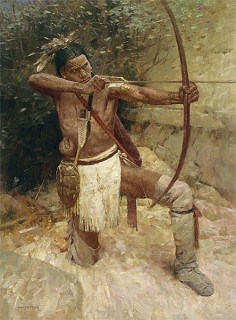 Enlarge Image

Change Wall Color
Tweet
Z.S. Liang Woodland Warrior Limited Edition Canvas
Status: Available | Condition:New Unframed Art | Edition:Limited Edition | Edition Size: Limited Edition of 35 | Dim:27 x 36 | Z.S. Liang | Item #: gwwoodland
Price:$1,295.00
Z.S. Liang Woodland Warrior Limited Edition Canvas
is eligible for layaway in 3 equal payments of $431.67 over 60 days.
4/23/2014 $431.67 1st payment
5/23/2014 $431.67 2nd payment
6/22/2014 $431.67 3rd & final payment
payments are automatically deducted from your credit card.
Available for purchase as of: April 23, 2014
As an option you may also pay for Z.S. Liang Woodland Warrior Limited Edition Canvas using Paypal, or Amazon Payments. Please note that all orders must be delivered to a physical address verified by Paypal and Amazon. This PayPal/Amazon option is not applicable to orders to be delivered to Military or International orders.
Woodland Warrior LIMITED EDITION CANVAS
NOTES: Years ago, Z.S. Liang found himself at the Plimoth Plantation and Wampanoag Homesite in Plymouth, MA. The Wampanoag men and women Liang befriended educated him in the history and ways of their people, an experience he would later describe as invaluable. I feel so fortunate to be invited to particpate in the community. It was the best introduction to Native Americans I could have.
Woodland Warrior Limited Edition Canvas , by Z.S. Liang is a Limited Edition production signed by the Artist. Comes with a Certificate of Authenticity which affirms that this is an authentic Limited Edition production from Z.S. Liang
share with us
Share your thoughts and comments on Woodland Warrior Limited Edition Canvas by Z.S. Liang Find us on Google+
Z.S. Liang bio
Z.S. Liang, born in China in 1953 and raised in a family of artists, published his first painting at age 6 in a children's magazine. His art education spanned two continents, beginning at the Central Academy of Fine Art in Beijing and continuing to the Massachusetts College of Art and Boston University. His award-winning paintings hang in both corporate and private collections around the world and several of his murals are permanently on display in New York City. His works are in corporate and private collections throughout the United States and many other countries, including Sheraton Corporation, Marriott Corporation, Weseda University Tokyo and the West Point Museum. Among the many awards Liang has received are the Best of Show and People's Choice at the American Society of Portrait Artists, the Arthur Ross Award for Painting at the Classical America New York, and the Lila Acheson Wallace Award for Painting at the Society of American Illustrators. Liang's paintings have been featured in the Artist's Magazine and the International Artists.