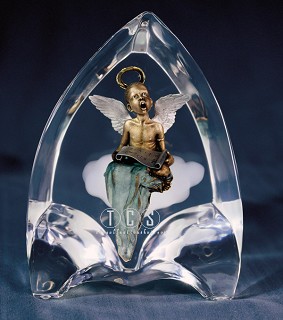 Enlarge Image

Change Wall Color
Tweet
Thomas Blackshear Legends On Wings Of Praise
Status: Available | Condition:New | Edition:Limited Edition | Edition Size: n/a | Dim:8 | Thomas Blackshear Legends | Item #: 36008
Price:$600.00
Thomas Blackshear Legends On Wings Of Praise
is eligible for layaway in 3 equal payments of $200.00 over 60 days.
4/24/2014 $200.00 1st payment
5/24/2014 $200.00 2nd payment
6/23/2014 $200.00 3rd & final payment
payments are automatically deducted from your credit card.
Available for purchase as of: April 24, 2014
As an option you may also pay for Thomas Blackshear Legends On Wings Of Praise using Paypal, or Amazon Payments. Please note that all orders must be delivered to a physical address verified by Paypal and Amazon. This PayPal/Amazon option is not applicable to orders to be delivered to Military or International orders.
This angelic child looks towards heaven as he sings his praise. The spirit of his song holds him weightless on the cloud upon which he rests.
NOTES:
On Wings Of Praise , by Thomas Blackshear Legends Thomas Blackshear Legends
share with us
Share your thoughts and comments on On Wings Of Praise by Thomas Blackshear Legends Find us on Google+
Thomas Blackshear Legends bio
A world class illustrator, Thomas Blackshear is best known for his limited edition prints and collectors plates. Now, his extraordinary versatility as a fine artist is exhibited in a third dimension: limited edition sculpture. Thomas Blackshears sculptures demonstrate incredible sense of design, unique eclectic style and extraordinary sense of color. Elegant drapery and delicate detail tantalize the eye while revealing each sculpted form. For centuries classical beauty has been portrayed predominantly by white artisans who represent white subjects in their art. Thomas has created a new vision of beauty and human emotion through his work.