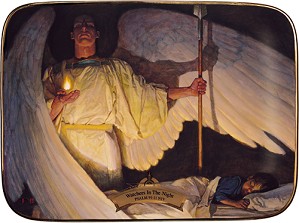 Enlarge Image

Change Wall Color
Tweet
Thomas Blackshear II Watchers In The Night Plate
Status: Retired | Condition:New | Edition:Limited Edition | Edition Size: Limited Edition | Dim:8.5 | Thomas Blackshear II | Item #: 900034
Price:$125.00
Available for purchase as of: April 24, 2014
Limited Edition Collectors Plate By Thomas Blackshear ll
NOTES:
Watchers In The Night Plate , by Thomas Blackshear II Thomas Blackshear II
share with us
Share your thoughts and comments on Watchers In The Night Plate by Thomas Blackshear II Find us on Google+
Thomas Blackshear II bio
A world class illustrator, Thomas Blackshear is best known for his limited edition prints and collectors plates. Now, his extraordinary versatility as a fine artist is exhibited in a third dimension: limited edition sculpture. Thomas Blackshears sculptures demonstrate incredible sense of design, unique eclectic style and extraordinary sense of color. Elegant drapery and delicate detail tantalize the eye while revealing each sculpted form. For centuries classical beauty has been portrayed predominantly by white artisans who represent white subjects in their art. Thomas has created a new vision of beauty and human emotion through his work.