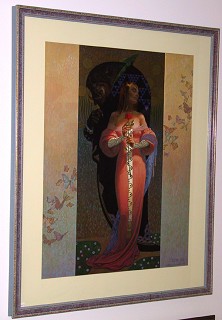 Enlarge Image

Change Wall Color
Tweet
Thomas Blackshear Beauty And The Beast - Framed Print
Status: Available (Rare Item) | Condition:In Original Packaging | Edition:Limited Edition | Edition Size: Limited Edition | Dim:31" x 23 5/8" Paper | Thomas Blackshear | Item #: 8900000F
Price:$3,000.00
Thomas Blackshear Beauty And The Beast - Framed Print
is eligible for layaway in 3 equal payments of $1,000.00 over 60 days.
4/25/2014 $1,000.00 1st payment
5/25/2014 $1,000.00 2nd payment
6/24/2014 $1,000.00 3rd & final payment
payments are automatically deducted from your credit card.
Available for purchase as of: April 25, 2014
As an option you may also pay for Thomas Blackshear Beauty And The Beast - Framed Print using Paypal, or Amazon Payments. Please note that all orders must be delivered to a physical address verified by Paypal and Amazon. This PayPal/Amazon option is not applicable to orders to be delivered to Military or International orders.
39 3/4" x 31 3/4" framed
NOTES: Thomas Blackshear's vision of this timeless classic combines his supreme artistry with the art of storytelling. "I've always been interested in turn-of-the-century art that combines dreamlike quality with strong design," Blackshear says. "Influenced by Gustav Klimt and Maxfield Parrish, I've always wanted to capture their romantic, symbolic quality." The butterflies on either side of the lovers represent the beast's metamorphosis, and Blackshear's delicate attention to detail gives the piece a special radiance, the background suggesting Klimt's elegant style. "My version of this classic story about a beauty and a beast shows the union of two very different people who share one thing - love," Blackshear says.
Beauty And The Beast - Framed Print , by Thomas Blackshear Is a Limited Edition production signed by the Artist. Print Comes with a Certificate of Authenticity which affirms that this Art Print is an authentic Limited Edition production from Thomas Blackshear
share with us
Share your thoughts and comments on Beauty And The Beast - Framed Print by Thomas Blackshear Find us on Google+
Thomas Blackshear bio
THOMAS BLACKSHEAR II, the son of an Air Force captain, was born in Waco, Texas, and grew up in Atlanta, Georgia. "Drawing was all I ever liked to do," he says. "While all the other guys were playing baseball or basketball, I was in my house, drawing." He pursued an interest in art throughout high school, securing a scholarship to the Art Institute of Chicago. After a year there, he transferred to the nearby Academy of Art. While finishing his college education, he was recruited by Hallmark Cards and later became the apprentice of illustrator Mark English.

Blackshear settled in Kansas City, where he became head illustrator at the prestigious Godbold/Richter Studio. A year later, he began a prosperous freelance career, illustrating many advertisements, several U.S. Postal Service stamp collections—one called "Black Heritage," another on classic movies, and a third on jazz musicians—and several series of Hamilton Group collector's plates featuring scenes from Star Wars, Star Trek, and The Wizard of Oz. Although he was successful, he was dissatisfied and decided to pursue a career in fine art.

Blackshear has received many awards for his artwork, including the Society of Illustrators' coveted Gold Medal. He was profiled on The Living Canvas, an art magazine of the airwaves that was shown on public television, and he has been featured on the Ebony/Jet Showcase and The 700 Club, and in The Saturday Evening Post. An exhibit of his original works for the Black Heritage stamp series premiered in 1992 at the Smithsonian's National Museum of American History and subsequently toured the United States.

Browse and enjoy the great African American Art work from one of Today's most collected African American Artists, Thomas Blackshear..