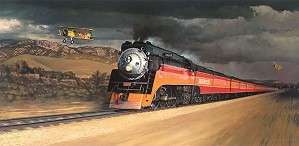 Enlarge Image

Change Wall Color
Tweet
Dean Morrisey Chasing The Daylight Masterwork Anniversary Edition
Status: Available | Condition:New Unframed Art | Edition:Limited Edition | Edition Size: Limited Edition of 150 | Dim:40 x 20 | Dean Morrisey | Item #: gwchasing
Price:$850.00
Dean Morrisey Chasing The Daylight Masterwork Anniversary Edition
is eligible for layaway in 3 equal payments of $283.33 over 60 days.
4/23/2014 $283.33 1st payment
5/23/2014 $283.33 2nd payment
6/22/2014 $283.33 3rd & final payment
payments are automatically deducted from your credit card.
Available for purchase as of: April 23, 2014
As an option you may also pay for Dean Morrisey Chasing The Daylight Masterwork Anniversary Edition using Paypal, or Amazon Payments. Please note that all orders must be delivered to a physical address verified by Paypal and Amazon. This PayPal/Amazon option is not applicable to orders to be delivered to Military or International orders.
Chasing the Daylight MASTERWORK ANNIVERSARY EDITION
NOTES:
Chasing The Daylight Masterwork Anniversary Edition , by Dean Morrisey Is a Limited Edition production signed by the Artist. Comes with a Certificate of Authenticity which affirms that this Art Work is an authentic Limited Edition production from Dean Morrisey
share with us
Share your thoughts and comments on Chasing The Daylight Masterwork Anniversary Edition by Dean Morrisey Find us on Google+
Dean Morrisey bio
"Dean Morrissey has been drawing and creating characters since his childhood in Boston. Inspired by Disney matte paintings and comic book heroes early on, he grew to appreciate the works of the masters, such as Rembrandt, Vermeer, Pyle and N.C. Wyeth. Morrissey worked a variety of job until deciding to paint full time in the late 1970's. He worked as a freelance book cover illustrator for over 15 different publishers in New York and won numerous awards. Morrissey is self taught, and considers the demands of cover illustration to have been his "art school". In 1991, Morrissey began to paint some images from a story that he was creating. His books include Ship of Dreams Harry N Abrams (1994), The Great Kettles: A Tale of Time Harry N Abrams (1997), The Song of Celestine Little, Brown and Co. (1998), The Christmas Ship HarperCollins (2000), A Christmas Carol Greenwich Workshop Press (2000), The Moon Robber HarperCollins (2001), The Winter King HarperCollins (2002), and The Monster Trap HarperCollins (2004). His awards include The Society of Illustrators Gold Medal for The Great Kettles, The Chesley Award for The Light Ship (2002), and he is a current nominee for this year's Chesley Award for Anna of the Celts (2003). Morrissey lives with his wife Shan and his son on the South Shore of Massachusetts. "