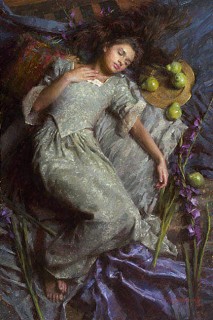 Enlarge Image

Change Wall Color
Tweet
Morgan Westling Dreams In Blue Limited Edition Canvas
Status: Available | Condition:New Unframed Art | Edition:Limited Edition | Edition Size: Limited to 150 | Dim:16 x 24 | Morgan Westling | Item #: MW00007
Price:$595.00
Morgan Westling Dreams In Blue Limited Edition Canvas
is eligible for layaway in 3 equal payments of $198.33 over 60 days.
4/24/2014 $198.33 1st payment
5/24/2014 $198.33 2nd payment
6/23/2014 $198.33 3rd & final payment
payments are automatically deducted from your credit card.
Available for purchase as of: April 24, 2014
As an option you may also pay for Morgan Westling Dreams In Blue Limited Edition Canvas using Paypal, or Amazon Payments. Please note that all orders must be delivered to a physical address verified by Paypal and Amazon. This PayPal/Amazon option is not applicable to orders to be delivered to Military or International orders.
Dreams in Blue, LIMITED EDITION CANVAS
NOTES: The theme artist Morgan Weistling began in Dreams in Gold, matures in Dreams in Blue.I loved painting this girl from above because it allowed me to see things from a perspective of unhindered patterns and flowing shapes. As this painting started to come together I realized that my model was floating in a world of her own. This illusion represents a sense of freedom that figure painters rarely get to enjoy—the freedom from gravity, says Weistling. Imagination and emotion are enhanced by his masterful use of oils.Having her bathed in shades of blues and cool colors added an almost underwater quality to the work.This sense of fluidity and motion contrasts with the near static state of sleep, creating a still life work. More importantly, it hints at the far more expansive realm of dreams she resides in.
Dreams In Blue Limited Edition Canvas , by Morgan Westling Is a Limited Edition production signed by the Artist. Comes with a Certificate of Authenticity which affirms that this Art Work is an authentic Limited Edition production from Morgan Westling
share with us
Share your thoughts and comments on Dreams In Blue Limited Edition Canvas by Morgan Westling Find us on Google+
Morgan Westling bio
"Morgan Weistling began his artistic training on his father's lap at 19 months of age, where he learned how to draw and more importantly, use his imagination. Capitalizing on his father's talent for telling a story in comic strip form, Morgan began to develop a sense of narrative in his drawing. "It was here that art became a language for me." At the age of 12, Morgan applied his interest in art to studying his father's art books and began his art school studies at the Brandes Art Institute at 15. Working in a Los Angeles art supply store while attending art school, Morgan chanced to show his artwork to a prominent illustrator. As a result of their encounter, at the age of 19, Weistling found himself employed at a top movie poster agency in Hollywood. For the next 14 years, Morgan illustrated for every movie studio in Hollywood. His clients included Universal/Amblin Entertainment, Disney, MGM, Paramount, 20th Century Fox, Warner Brothers, Columbia Pictures and TriStar. In addition to movie posters, Weistling created all the cover artwork for the video series, McGee and Me for Focus on the Family and his art can be seen on numerous magazine, book, CD and video covers as well as Sega pinball machines. Since he has made fine art the focus of his art career, the collector demand for his originals has been overwhelming. With his masterful use of oils, Morgan Weistling brings a scene to life with spectacular lighting, creating a sense of wonder and engaging the viewer's imagination and emotion. His dreamlike images touch the viewer's heart, using more than sentimentality to engage the viewer. His canvases are filled with brushwork that tells a story beyond the subject matter. Like a skilled movie director, he manipulates the focus of interest with suggestions and impressions of forms that are barely realized and allow the viewer's imagination to fill in the details. "There is a story underneath the story of my paintings," Morgan adds, "I don't hide the process of how I painted it. You can see the layers and count the strokes it took to get there. With some styles of painting, the closer you get to the canvas, the more you will see. With mine, the more you step back, the more detail you will see. That's not easy, which is why it fascinates me." Morgan Weistling follows in the footsteps of the masters he admires, John Singer Sargent, Anders Zorn and Nicolai Fechin as well as many others. In all of his vibrant work, from western art to feminine forms, Weistling crafts a narrative, driven by clarity, focus and purpose, drawing on images inspired by his beliefs and scenes from daily life. "My hope is that people will enjoy viewing my artwork as much I enjoyed painting it. For me, art is my language used to communicate to others how I see God's creation. When I experience another artist's work, I love to see through their eyes and find out as much about the artist as the subject they painted. That is what makes art so interesting." Weistling, a highly sought-after teacher, conducts private workshops with juried students and teaches at the prestigious Scottsdale Artist School. Recent honors and awards include the Patron's Choice Award and the Trustees Purchase Award at the Autry Museum of Western Heritage in Los Angeles, CA, the Prix de West Purchase Award at the National Cowboy and Western Heritage Museum in Oklahoma City, OK, and the Patron's Choice Award at the Autry Museum of Western Heritage. Weistling's book, The Image of Christ, was a finalist for the Evangelical Christian Publishers Association Gold Medallion Book Award. Weistling and his artist wife JoAnn, whom he met in art school, have been married for 14 years. Their 9 year-old daughter is often a model in Weistling's paintings. They make their home in California. "