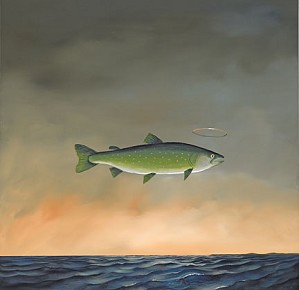 Enlarge Image

Change Wall Color
Tweet
Robert Deyber Holy Mackerel
Status: Available | Condition:Unframed Art | Edition:Limited Edition | Edition Size: | Dim:11.375 x 11.75 | Robert Deyber | Item #: LT-DEY-014907
Price:$595.00
Robert Deyber Holy Mackerel
is eligible for layaway in 3 equal payments of $198.33 over 60 days.
4/25/2014 $198.33 1st payment
5/25/2014 $198.33 2nd payment
6/24/2014 $198.33 3rd & final payment
payments are automatically deducted from your credit card.
Available for purchase as of: April 25, 2014
As an option you may also pay for Robert Deyber Holy Mackerel using Paypal, or Amazon Payments. Please note that all orders must be delivered to a physical address verified by Paypal and Amazon. This PayPal/Amazon option is not applicable to orders to be delivered to Military or International orders.
Holy Mackerel
NOTES: hand-crafted stone lithograph
Holy Mackerel , by Robert Deyber Is a Limited Edition production signed by the Artist. Print Comes with a Certificate of Authenticity which affirms that this Art Print is an authentic Limited Edition production from Robert Deyber
share with us
Share your thoughts and comments on Holy Mackerel by Robert Deyber Find us on Google+
Robert Deyber bio
Robert Deyber's artwork is full of surprises. Every canvas revels in the artist's sense of humor, each painting a visual rendering of a clever turn on a common phrase. Despite his sense of fun, however, Robert Deyber is a seriously skilled painter. He is endlessly intrigued by visual imaginings that reside in the realm between reality and fantasy, and he is clearly able to render these imaginings brilliantly. His artwork is highly narrative in nature; his paintings convey an almost dreamlike quality to the bemused viewer. Born and raised in Greenwich, Connecticut, Deyber began drawing at an early age. Art was a necessary means of escape from an otherwise difficult world, one in which he set his mind free to visit the most remote places—a wheat field in South Dakota, the dunes of the Gobi desert, the moons of Jupiter—all within easy reach for a very imaginative young boy. Throughout his paintings, Robert Deyber moves in and out of visual themes and story lines. Compelled to create imagery where he uses a combination of highly stylized composition, light and contrasting colors, his goal is to apply all three skillfully, thereby drawing the viewer into his painting without overpowering or confusing. Deyber is a 'visual raconteur'—a storyteller with a paintbrush, his mind's eye planted deep within the subconscious. With artistic roots that hail from the Surrealist movement, among his heroes are Rene Magritte and Salvatore Dali. While many of Deyber's paintings contain elements derived from dreams created out of the unpredictable imagery found in the subconscious, the extraterrestrial flowers have more in common with the worlds of alternate natural history imagined by Alexis Rockman or Walton Ford, and the visual rendition of current phraseology and popular culture are more in the tradition of the Pop Art movement. It is, in the end, the undecided tone between sincerity and irony that makes Robert Deyber's artwork distinctly contemporary, his visual vocabulary distinctly his own, but with a worldwide audience.