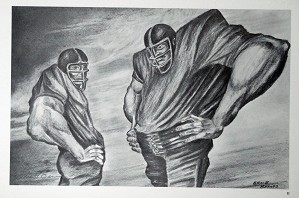 Enlarge Image

Change Wall Color
Tweet
Ernie Barnes Two Linemen
Status: Only 1 Available | Condition:New | Edition:Fine Art Posters | Edition Size: n/a | Dim:18x 12 | Ernie Barnes | Item #: EBTWOLINEMENB
Price:$195.00
Available for purchase as of: April 25, 2014
Two Linemen from The Portfolio of Football Art.

Behind the helmeted bars of pro football's legendary linemen are men who thrive on physical contact. These men, all of whom have surpassed their growth potential, show a cool disregard for the hand-to-hand battle in the line. They learned early – from the time they began to play – that one need not cringe from contact and that one need fear no one, regardless of size or mouth.
NOTES: Printed by offset lithography, all fine art prints by Ernie Barnes are inspected to ensure an accurate rendition of the original canvas. Each fine art print is sold unframed.

FROM THE ARTIST: Here is a drawing which really needs no explanation. It is a drawing portraying the moods and excitement in the game of football – a game which does strange things to men…makes them lose their heads…makes them hate. It is primeval combat…elbows and shoulder pads…muscle and helmets. It is a George Plimpton discovered, no place for Walter Mitty. I have tried, in my art to re-embody all of the elements of the game in order to portray my subject as fact…deliberately distorting the body in order to inject the strength and the spirit of the men who play the game. It is almost impossible to introduce the athlete in the art of satisfying his thirst for competitiveness in athletics…unless the mood and guts of the game are dramatically expressed. Even before my pencil touches the paper, I mentally strip my idea of its concrete accompaniments – in order to inject my composition with actual reality and spirit.

If football is to be the subject then football should be felt when the drawing is complete.

My experiences in the game where guts, desire and a total disregard for personal safety are prime prerequisites provided the nucleus around which this drawing is formed. One of the luckiest brakes I had as an athlete came in 1960 when I was signed to an American Football League contract with the San Diego Chargers. Here I played in the arena with men who felt that this opportunity to play professional football was the greatest gift since their first bicycle. We suffered ridicule and prejudice from people who said that our league wouldn't last. Sometimes the only audience seemed to be the concession workers and the custodians.

But we continued to play and dedicate our strength and energies to the game we loved and enjoyed.

Now, with five years of professional football behind me, I am proud of having played in a league where dedication, pride and confidence formed the roots of its success. Thanks to the American Football League, my art talent developed with purity as a result of my opportunity to play. Now this drawing which is a view from the arena floor, has been capsuled for you to enjoy. ERNIE BARNES.
Two Linemen , by Ernie Barnes Ernie Barnes
share with us
Share your thoughts and comments on Two Linemen by Ernie Barnes Find us on Google+
Ernie Barnes bio
Ernie Barnes was born July 15, 1938. Endowed with an innate sensitivity, he knew early in life that he wanted to become an artist. Initial impressions were fashioned in the rich soil of Durham, North Carolina, while his sensibilities were cultivated in a loving home by his parents, Ernest Sr. and Fannie (Geer) Barnes. As a child, he often accompanied his mother to the home of the prominent attorney, Frank Fuller, Jr., where she worked as a domestic. Through his expansive library, Fuller introduced Barnes to the works of the great master artists such as Rembrandt, Raphael and Michelangelo. Amidst the harshness of life in the segregated south in the1940's, artistic ambitions would prove to be an impossibility. His father echoed the sentiments of many in ridiculing and forbidding young Ernest's desire to be an artist. His peers also asserted their disdain by beating him on a daily basis. The isolation and despair of this shy, fat, un-athletic boy plagued him until he reached junior high school. Through the constant encouragement of one of his teachers, he painstakingly reinvented himself, graduating from high school with 26 football scholarships and the respect of the entire community. Shielded by the virility of football, Barnes majored in art. He would have preferred to attend the local Duke University or University of North Carolina at Chapel Hill, but blacks were not yet allowed on those campuses. He received his academic training at North Carolina College (now North Carolina Central University) in Durham, and is an heir to the legacy of the Harlem Renaissance, which was handed down by his teachers W. B. Fletcher and Ed Wilson. Emphasizing skill and the fundamentals, their traditional courses gave Barnes the necessary foundation to develop his own style. His desire to become an artist, however, was deeply challenged on a 1956 field trip to the newly-desegregated North Carolina Museum of Art. When he was unable to find paintings of or by blacks anywhere in the museum, he asked where they were exhibited. In response, the Caucasian docent summed up the prevailing attitude of the time when she emphatically declared, "Your people don't express themselves this way." In that instance, Barnes realized the prejudices and hurdles he would have to overcome in his quest to be an artist, and the gravity of the task he had set out for himself. Having acquired the necessary tutelage, Barnes' principal ambition was to become the artist he was told he could never be. His figurative mode of expression, however, was completely contrary to the abstract paintings which had come into vogue. Without a role model or resource for encouragement in art, Barnes instead entered the arena of professional football. In 1960, he was the 10th draft choice of the then-World Champion Baltimore Colts. He spent five successful seasons as an offensive guard for the San Diego Chargers (1960-62), and later for the Denver Broncos (1963-64). Many of his early works reflected his time on the playing field. He credits the energy of the game for inspiring his mannerist style of painting and fluidity of technique. In 1965, Barnes retired from football to devote his life to art. His break into the art world came when former hotel chairman and Charger team owner Barron Hilton facilitated a meeting with the late New York Jets owner, David Werblin. Following a critical art evaluation in which Barnes was deemed "the most expressive painter of the American scene since George Bellows," Werblin paid Barnes his football salary to quit football and hone his skills as an artist. Recognizing the racial barriers inherent in America's infrastructure, Werblin sponsored Barnes' first solo exhibition, placing him with Manhattan's prestigious Grand Central Art Galleries. Following that sold-out show, Barnes moved to Los Angeles and began exhibiting his art consistently. Away from his easel, he pursued opportunities in the entertainment industry and created the CBS Super Comedy Bowl, which aired from 1969-1970. As an actor, he had featured roles in three films: Number One with Charlton Heston; Doctors' Wives, and Don't Look Back, the story of Satchel Paige. He also appeared on the ABC television series, Doctors' Hospital for one season. Barnes found great success in Hollywood, and the entertainment community simultaneously embraced him as an artist by avidly collecting his work. The social and political climate of the late 1960's and early 1970's ignited Barnes' imagination. As civil rights and the black pride movement exploded, he was providing positive and tangible examples. His vision was presented in 1971 through his solo exhibition, The Beauty of the Ghetto. Hosted by the late Mayor Tom Bradley, it premiered in Los Angeles at the Heritage Gallery, with several successive showings, including a 1974 presentation hosted by Ethel Kennedy in Washington, D.C. The exhibition filled a void, as it was the first visible testimony to illuminate the endearing and virtuous aspects of black life in America. The response was overwhelming. One of the paintings from the exhibition, titled Sugar Shack became the most visible painting by an American artist since Edward Hopper's Nighthawks. The image was used by producer Norman Lear for the opening credits of his television show Good Times, and by Marvin Gaye as the cover to his 1976 album. The unifying effects of the exhibition garnered Barnes many accolades, and in 1974 Representative John Conyers wrote Barnes into the Congressional Record. This memorable exhibition intentionally moved away from themes of social and political protest. By giving vision to the common properties in the daily lives of African Americans, Barnes defined the very essence of a culture. His work and unique style influenced countless artists to emulate him, forging the path for what has become known as "black art" in America. Due to the impact of the exhibition, many have tried to identify Barnes solely as an interpreter of African American life, but to do so would only dilute his true impact on mainstream American painting. He is a synthesizer of all cultures who integrates the fundamental tenants of Western civilization. As an artist, his oeuvre seeks to inspire, educate and reacquaint us with ourselves and those around us. Based on his diverse life experiences, he suggests a world of aesthetics and harmony, portraying the human figure with vivid palpability. His command of movement, particularly in his sports paintings, earned him the appointment as Official Artist of the XXIII Olympiad at Los Angeles in 1984. Barnes has five children from two previous marriages. He and his wife, Bernie, support arts in education through their active involvement with the Los Angeles Unified School District wide Arts Program. Acting as a role model, he seeks to encourage and support the mental, emotional and creative efforts of all children. His 1992 painting "Growth Through Limits," depicting three culturally diverse youths watching a fragile flower grow through a crack in the cement, is a visual metaphor to inspire children. At the request of city officials, Barnes licensed the painting for use as a billboard in urban Los Angeles. After creating an essay contest for students at the junior high school level, Barnes awarded the winner a cash prize for interpreting the painting's symbolic message. He endeavors to further advance the vital role the arts can play in education through speaking engagements and other associations. In 1995, Barnes completed his autobiography From Pads to Palette, which recounts his transformation from a football player to artist.