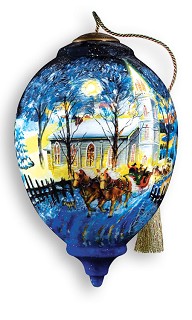 Enlarge Image

Change Wall Color
Tweet
Stewart Sherwood Midnight Clear
Status: Available | Condition:New | Edition:Limited Edition | Edition Size: Limited Edition of 1500 | Dim:6.75 inches | Stewart Sherwood | Item #: 739-LE-SS
Price:$97.00
Available for purchase as of: April 24, 2014
Midnight Clear
NOTES: Hand-Painted Original Art.
We are proud to present this beautiful and unique line of home decor art. Ne'Qwa artists create every design by using the centuries-old tradition of painting on the inside of mouth-blown glass. An artist signature and the Ne'Qwa logo, etched into the glass, authenticates every piece.
Midnight Clear , by Stewart Sherwood Ne'Qwa, in the Mandarin language, is the term for this centuries-old artistic tradition of reverse painting on the inside of glass. This technique creates a brilliance and luster that is not attainable with standard painting methods. Through a small opening in each ornament, the artist uses delicate brush strokes to hand-paint on the inside of mouth-blown glass. From outlining to shading to color application, all work is painstakingly done in freehand. The Art work was originally created by Stewart Sherwood
share with us
Share your thoughts and comments on Midnight Clear by Stewart Sherwood Find us on Google+
Stewart Sherwood bio
Stewart Sherwood is acclaimed by critics to be today's pre-eminent Canadian realist painter and illustrator. Few artists have this extraordinary skill of depicting children with precision while being able to express deep sensitivity towards the subject. Internationally known, Stewart has an impressive list of credits, including illustrations of world figures, more than 20 magazine covers, a series of gold coins and winner of three gold plate awards.