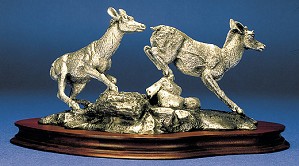 Enlarge Image

Change Wall Color
Tweet
Ron Lee Catching Up
Status: Limited Availability | Condition:In Original Packaging | Edition:Limited Edition | Edition Size: Limited Edition 2906 | Dim:10 1/2 long | Ron Lee | Item #: 2906
Price:$405.00
Available for purchase as of: April 23, 2014
Catching Up
NOTES: Capture the electrifying emotions of two pronghorn antelope, separated from their herd, running with the knowledge that safety is in numbers.
Catching Up , by Ron Lee Ron Lee
share with us
Share your thoughts and comments on Catching Up by Ron Lee Find us on Google+
Ron Lee bio
As an artist and sculptor for over 25 years, Ron Lee has created the world's largest and finest collection of Limited Edition Clown Figurines. Ron was born in Southern California in July of 1947 and began his career at the ripe old age of 12 by carving and building elaborate ship models. As a teen, he worked with his father and learned the "lost wax" process where he sculpted and cast wildlife and western artwork in bronze. His fun-loving nature and his great love of the circus led to his passion of sculpting clowns. This all began with one small clown, "Hobo Joe," who has become his beloved mascot. It has grown to a collection of over 750 sculptures currently available and over 2,000,000 of Ron's creation in the homes of the most discerning of collectors! Warner Bros., Universal Studios, and his wonderful selection of clown figurines were manufactured in his Simi Valley Factory until 1994 when his entire family moved to Henderson, Nevada. It is Ron's sincere hope and desire that his sculptures will bring you as much enjoyment as he receives in creating them for you.