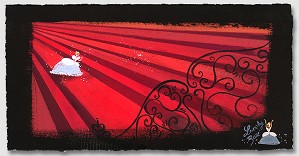 Enlarge Image

Change Wall Color
Tweet
Lorelay Bove Red Staircase
Status: Available | Condition:New Unframed Art | Edition:Limited Edition | Edition Size: 95 | Dim:5.75 x 11 | Lorelay Bove | Item #: CELBRed_Staircase
Price:$395.00
Lorelay Bove Red Staircase
is eligible for layaway in 3 equal payments of $131.67 over 60 days.
4/24/2014 $131.67 1st payment
5/24/2014 $131.67 2nd payment
6/23/2014 $131.67 3rd & final payment
payments are automatically deducted from your credit card.
Available for purchase as of: April 24, 2014
As an option you may also pay for Lorelay Bove Red Staircase using Paypal, or Amazon Payments. Please note that all orders must be delivered to a physical address verified by Paypal and Amazon. This PayPal/Amazon option is not applicable to orders to be delivered to Military or International orders.
Red Staircase
NOTES: Red Staircase
Red Staircase , by Lorelay Bove Is a Limited Edition production signed by the Artist. Print Comes with a Certificate of Authenticity which affirms that this Art Print is an authentic Limited Edition production from Lorelay Bove
share with us
Share your thoughts and comments on Red Staircase by Lorelay Bove Find us on Google+
Lorelay Bove bio
Born in Barcelona, Spain, raised in the principality of Andorra and part of a family full of gifted artists (her father is renowned painter Quim Bove) art has always been a way of life for Lorelay. Educated at the prestigious California Institute for the Arts (known commonly as CalArts) a school founded by Walt Disney to foster young creative talent, this exciting young artist has made an impact on the art and animation world almost immediately upon her arrival. After making her entry into the business as an art intern at Pixar Animation Studios, she quickly transitioned into her current role as a Visual Development Artist at Walt Disney Animation Studios. In addition to her influential roles in the visual direction and development of The Princess and the Frog ,Tangled, Winnie the Pooh, and Prep and Landing for which she designed backgrounds, characters costuming, color scripts for numerous sequences, and countless other elements, Lorelay Bove is also known for providing the illustrations for the Little Golden Book The Princess and the Frog title, as well as Toy Story: Ride 'em Cowboy! Her work was featured at the New Orleans Museum of Art's exhibition of Dreams Come True: Art of the Classic Fairy Tales from the Walt Disney Studio as well as countless other art exhibits worldwide. Her work is often compared to the work of Disney Legend Mary Blair, although Lorelay confesses that she did not become aware of Ms. Blair's work until her college years. Her own visual signature and style had already been well established for many years at that point, however, she finds the comparison flattering. "It's quite a compliment!" she says.