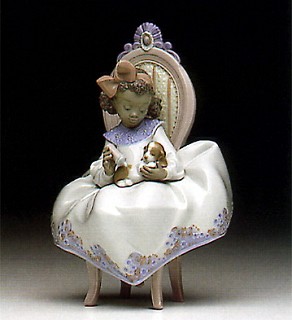 Enlarge Image

Change Wall Color
Tweet
Lladro Black Legacy Just A Little More
Status: Available (Rare Item) | Condition:In Original Packaging | Edition:Black Legacy | Edition Size: 5908 | Dim:23 CM 9¼" | Lladro Black Legacy | Item #: 5908
Price:$712.00
Lladro Black Legacy Just A Little More
is eligible for layaway in 3 equal payments of $237.33 over 60 days.
4/23/2014 $237.33 1st payment
5/23/2014 $237.33 2nd payment
6/22/2014 $237.33 3rd & final payment
payments are automatically deducted from your credit card.
Available for purchase as of: April 23, 2014
As an option you may also pay for Lladro Black Legacy Just A Little More using Paypal, or Amazon Payments. Please note that all orders must be delivered to a physical address verified by Paypal and Amazon. This PayPal/Amazon option is not applicable to orders to be delivered to Military or International orders.
JUST A LITTLE MORE
NOTES: Issue Year: 1992. Base included. Retirement Year: 1997. Sculptor: Francisco Polope.
Just A Little More , by Lladro Black Legacy Lladro Black Legacy
share with us
Share your thoughts and comments on Just A Little More by Lladro Black Legacy Find us on Google+
Lladro Black Legacy bio
Lladró was founded in 1953 when Juan, José, and Vicente, three brothers born of local farmers and endowed with great artistic talent, formed a small family company in the Valencian village of Almácera, Spain. Since then, Lladró has undergone an amazing metamorphosis from an artisan workshop to a huge firm of international scope enjoying continual growth. The company management has remained in the hands of the Lladró family, the owners of the firm, since its inception.
By 1990, Lladró had begun to recognize that affluent African-American are a powerful consumer constituency, and the company responded by creating a number of African-American models. This collection was originally named the Black Heritage Collection. In late 1990, the company made the decision to rename the collection after some consumers felt the term "heritage" smacked too much of the history of slavery. Among the most popular Black Legacy figurines are Dr. Martin Luther King,Jr.(#7528); and two sequences of jazz musician figurines: Jazz Clarinet (#5928), Jazz Drums (#5929), and Jazz Duo (#5930) issued in 1992 and Jazz Horn (#5832), Jazz Sax (#5833), and Jazz Bass (#5834) issued the prior year. The collection has family groupings (e.g.:Family Roots - #5371) and figurines of African-American children.