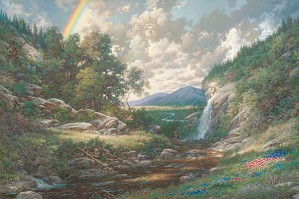 Enlarge Image

Change Wall Color
Tweet
Larry Dyke America Visions of Liberty Giclee on Paper Artist Proof
Status: Available | Condition:New | Edition:Limited Edition | Edition Size: Limited Edition of 35 | Dim:20 X 30 | Larry Dyke | Item #: LDY202GPAPR2030
Price:$185.00
Available for purchase as of: April 24, 2014
As an option you may also pay for Larry Dyke America Visions of Liberty Giclee on Paper Artist Proof using Paypal, or Amazon Payments. Please note that all orders must be delivered to a physical address verified by Paypal and Amazon. This PayPal/Amazon option is not applicable to orders to be delivered to Military or International orders.
America Visions of Liberty Giclee on Paper Artist Proof
NOTES: This beautiful landscape contains 20 hidden, patriotic symbols. From the Statue of Liberty to the "Don't Tread on Me" snake, America, Visions of Liberty, is an outstanding work that will keep the viewer searching for each symbol of America. Can you locate all of these symbols? Just a hint, there are six of our early patriots and a very famous Native American among othis treasure trove of some of the symbols that represent our great country.
America Visions of Liberty Giclee on Paper Artist Proof , by Larry Dyke Larry Dyke
share with us
Share your thoughts and comments on America Visions of Liberty Giclee on Paper Artist Proof by Larry Dyke Find us on Google+
Larry Dyke bio
Larry Dyke has devoted his life's work to the interpretation of the beauty he beholds in nature. His success as one of America's most beloved artists is proof of his distinctive ability to create a scene which captivates the imagination of the viewer. Dyke's genius lies in his construction of intricate settings that even the novice art lover can appreciate. His deep personal belief as a Christian is the driving force which guides Larry's life and work. In his paintings, Larry captures not only the physical beauty of the great outdoors, but also the spiritual sense of perfection he views as the handiwork of God's creation. This is why each of his paintings carries a related Bible verse below his signature. When Larry became a full time artist, he was impressed to put a scriptural notation on each of his paintings. It's an expression of what Larry thinks the true answer to life is. A native Texan, Larry began painting professionally in 1976. His first lithographs were released two years later and today he has produced more than 100 limited edition prints. Larry's art has hung in the White House and in the homes of such distinguished personalities as Steve Allen, Shirley Jones, Vincent Price and Billy Graham. His work has also hung in the Vatican. At the personal request of Pope John Paul II, Larry painted Sharing the Faith, a tribute to the long and important role of the Church in America. Larry has also made a name for himself among golfers painting America's most beautiful courses. Yet even with all the accolades for his original art as well as the immense demand for his Limited Edition prints, Larry Dyke continues to reach inside to strive for the excellence he sees in the natural world around him. He believes his life and career have been guided by a commitment to his faith. It has instilled in him a determination to develop his talent to the fullest.