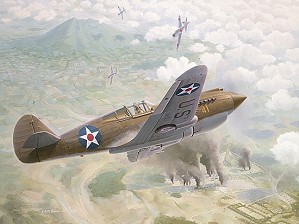 Enlarge Image

Change Wall Color
Tweet
Keith Ferris Too Little Too Late Limited Edition Print
Status: Available | Condition:New Unframed Art | Edition:Limited Edition | Edition Size: Limited to 1000 | Dim:31.5 x 25.375 | Keith Ferris | Item #: KF00009
Price:$245.00
Keith Ferris Too Little Too Late Limited Edition Print
is eligible for layaway in 3 equal payments of $81.67 over 60 days.
4/24/2014 $81.67 1st payment
5/24/2014 $81.67 2nd payment
6/23/2014 $81.67 3rd & final payment
payments are automatically deducted from your credit card.
Available for purchase as of: April 24, 2014
As an option you may also pay for Keith Ferris Too Little Too Late Limited Edition Print using Paypal, or Amazon Payments. Please note that all orders must be delivered to a physical address verified by Paypal and Amazon. This PayPal/Amazon option is not applicable to orders to be delivered to Military or International orders.
TOO LITTLE TOO LATE, LIMITED EDITION PRINT
NOTES: News of the Japanese attack on Pearl Harbor reached General Douglas MacArthurs Headquarters in Manila very early Monday Morning, Decemer 8, 1941. U.S. forces were placed on alert for possible Japanese attacks on the Philippines. Lt. Joseph Moore, Commander of the 20th Squadron, stood by his P-40 waiting word from High Command, when at 12:35 PM a large force of aircraft approached from the Northwest. Moore immediately ordered his fighters into the air.
Too Little Too Late Limited Edition Print , by Keith Ferris Is a Limited Edition production signed by the Artist. Comes with a Certificate of Authenticity which affirms that this Art Work is an authentic Limited Edition production from Keith Ferris
share with us
Share your thoughts and comments on Too Little Too Late Limited Edition Print by Keith Ferris Find us on Google+
Keith Ferris bio
"An artist's career can rest on the simplest of things. For Keith Ferris, it was an allergic condition which kept him from becoming a pilot for the Air Force. But he didn't let that stop him from making his love of aviation his life. Instead, he channeled his energy and enthusiasm into becoming an aviation lecturer, historian, model-builder, inventor and artist known for his scrupulous accuracy of aircraft and events. It also didn't keep him from flying all over the world in almost every type of jet aircraft possble. His knowledge of the industry and passion for sharing the thrill of flight was all in the family. He was the son of an Air Force officer and grew up on military bases in the U.S. and England. He majored in aeronautical engineering at Texas A&M University and enrolled in the Air Force ROTC. Since then he has painted for almost every major defense contractor in America and completed a variety of commissions for the U.S. Government, both practical and creative. He holds the patents for five air combat camouflage paint schemes and painted two twenty-five by seventy-five-foot murals for the Smithsonian Institution's National Air and Space Museum in Washington, D.C. He has been elected a life member of the Society of Illustrators and the Order of Daedalians, the national fraternity of military pilots. He is Honorary Air Force Art Chairman, past executive vice president of the Society of Illustrators and founder as well as past president of the American Society of Aviation Artists."