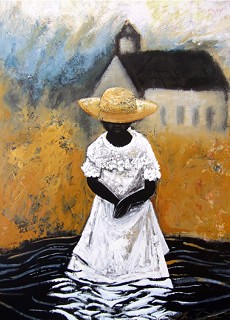 Enlarge Image

Change Wall Color
Tweet
Jerry Lynn and Terry Lynn Wade In The Water (morning)
Status: Available | Condition:New Unframed Art | Edition:Limited Edition | Edition Size: Limited Edition 260 | Dim:30" x 40" | Jerry Lynn and Terry Lynn | Item #: TWWADEES
Price:$1,750.00
Jerry Lynn and Terry Lynn Wade In The Water (morning)
is eligible for layaway in 3 equal payments of $583.33 over 60 days.
4/24/2014 $583.33 1st payment
5/24/2014 $583.33 2nd payment
6/23/2014 $583.33 3rd & final payment
payments are automatically deducted from your credit card.
Available for purchase as of: April 24, 2014
As an option you may also pay for Jerry Lynn and Terry Lynn Wade In The Water (morning) using Paypal, or Amazon Payments. Please note that all orders must be delivered to a physical address verified by Paypal and Amazon. This PayPal/Amazon option is not applicable to orders to be delivered to Military or International orders.
Wade in the Water (Morning)
NOTES: An illuminating image capturing the stillness and reverence befitting a rural baptism scene. The minister and church members are intentionally omitted from the scene in order to emphasize the personal relationship experienced with God.

This image is a fine art serigraph printed on Gessobord which gives it the look and feel of an original. In fact, most people can't tell the difference.

Wade In The Water (morning) , by Jerry Lynn and Terry Lynn Is a Limited Edition production signed by the Artist. Original comes with a Certificate of Authenticity which affirms that this is an authentic production from Jerry Lynn and Terry Lynn
share with us
Share your thoughts and comments on Wade In The Water (morning) by Jerry Lynn and Terry Lynn Find us on Google+
Jerry Lynn and Terry Lynn bio
Identical twin brothers Jerry and Terry Lynn are one of the most incredible stories in the art industry. Each is a talented artist in his own right, but it's their collaborative artistic genius which has won them acclaim for creating some of the most vibrant, exciting art the industry has seen in recent years. It's not unusual for artists to join artistic forces to create an image. It is unusual that two artists can work simultaneously on the same image, to produce an image so succinct in technique and style that it cannot be distinguished as a collaboration by two artists. A true artistic phenomenon, the painting styles and techniques of Twin are as connected as their physical presence. Born and raised in the suburbs of Memphis, Tennessee, the artists were highly influenced by the vibrant sounds of blues and jazz, which carries into their art. First published in 1995, the collaborative paintings of Twin are an overwhelming success. Offering a wealth of versatility, both artists are proficient at realism, as well as abstractual painting styles; in working in oil or acrylic; and in fine art print making. The brothers have accomplished much in their short career, including exhibitions in some of the country's top art shows, but they're not resting on their laurels. Twin were the official artists of the 1998 Essence Music Awards in New York and they created the official poster for the 1997 Philadelphia Art Expo. Expect only great things from art world's dynamic duo.