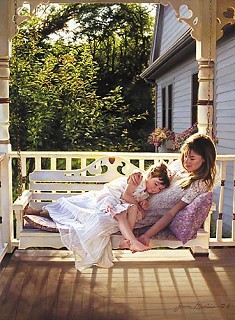 Enlarge Image

Change Wall Color
Tweet
Jean Monti Something To Treasure Limited Edition Canvas
Status: Available | Condition:New Unframed Art | Edition:Limited Edition | Edition Size: Limited to 100 | Dim:18 x 25 | Jean Monti | Item #: JM00006
Price:$550.00
Jean Monti Something To Treasure Limited Edition Canvas
is eligible for layaway in 3 equal payments of $183.33 over 60 days.
4/21/2014 $183.33 1st payment
5/21/2014 $183.33 2nd payment
6/20/2014 $183.33 3rd & final payment
payments are automatically deducted from your credit card.
Available for purchase as of: April 21, 2014
As an option you may also pay for Jean Monti Something To Treasure Limited Edition Canvas using Paypal, or Amazon Payments. Please note that all orders must be delivered to a physical address verified by Paypal and Amazon. This PayPal/Amazon option is not applicable to orders to be delivered to Military or International orders.
SOMETHING TO TREASURE, LIMITED EDITION CANVAS
NOTES: There are moments with our children in which we learn as much about our parents as we learn about ourselves. In Something to Treasure a mother holds her daughter, lovingly and gently touching the young girl's little feet as they relax on a porch swing. The memory of her own mother holding her feet as a little girl is as clear and warm as the sunlight that embraces her now. Even warmer, is the realization that her mother shared the same depth love for her that she now feels for her own little girl. As is so often the case, profound understanding is revealed in simple moments.
Something To Treasure Limited Edition Canvas , by Jean Monti Is a Limited Edition production signed by the Artist. Comes with a Certificate of Authenticity which affirms that this Art Work is an authentic Limited Edition production from Jean Monti
share with us
Share your thoughts and comments on Something To Treasure Limited Edition Canvas by Jean Monti Find us on Google+
Jean Monti bio
"A daughter, waiting at the door to welcome you home; a son, presenting you with a handpicked bouquet of wildflowers; a granddaughter, lying on your couch, engrossed in a favorite fairy tale—these are Jean Monti's Memories of the Heart™. Jean captures these simple, timeless moments in her paintings which celebrate the joys of childhood and family. Each of her works evokes an emotion that is personal, yet universal, inviting the viewer to recall and reflect on perfectly preserved scenes of innocence, love and security. Jean's artistic signature is recognizable for her realistic style and serene lighting which infuses every scene and bathes her subject in a soft glow. Growing up in a family of six children in Rhode Island, Monti's early artistic influence came from her mother in the form of arts and crafts. Working along side her older brother, who had muscular dystrophy and inspired her with his determination, Monti developed a passion for painting. Following her graduation from the prestigious Rhode Island School of Design, Monti pursued a successful career in commercial art. After the births of her children, she concentrated on pursuing a career in fine art. Jean's images are inspired by her personal memories. She begins by photographing children, and sometimes their parents, interacting naturally in a specific setting. Each painting begins with a pencil sketch. Then, Jean paints with oils, slowly building with transparent washes. Though relatively new to the fine art scene, her highly sought after works are already in numerous private homes and collections nationwide and Monti has gained a reputation as an artist to watch."