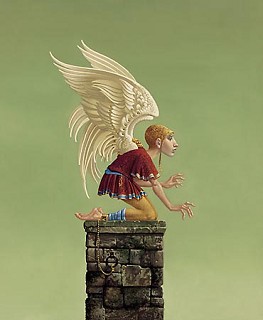 Enlarge Image

Change Wall Color
Tweet
James Christensen Icarus Bound Limited Edition Print
Status: Available | Condition:New Unframed Art | Edition:Limited Edition | Edition Size: Limited to 950 | Dim: x | James Christensen | Item #: JC00129
Price:$135.00
Available for purchase as of: March 9, 2014
As an option you may also pay for James Christensen Icarus Bound Limited Edition Print using Paypal, or Amazon Payments. Please note that all orders must be delivered to a physical address verified by Paypal and Amazon. This PayPal/Amazon option is not applicable to orders to be delivered to Military or International orders.
ICARUS BOUND, LIMITED EDITION PRINT
NOTES: What you probably see first in this image are the beautiful wings on Everyman. Next you notice that hes chained to a pillar-and then, if you look closely, youll spot a key within his reach. Im trying to suggest that we all have wings of potential, the means to do or become whatever we want. When I showed the still-untitled image to some friends, they said it reminded them of the story of Icarus. According to myth, Icarus learned to fly on wings made of wax and feathers. In some versions of the tale, he flies too close to the sun, which melts the wax and causes him to plummet into the ocean below. In other versions, he was also warned to say well above the waves because the spray could soak the feathers and destroy them. The message of the myth is certainly relevant here. Although we may fly on wings of potential, we shouldnt do it recklessly-freedom and license are not the same things. We need to keep a steady course-and it wouldnt hurt to draw up a flight plan before departure.
Icarus Bound Limited Edition Print , by James Christensen Is a Limited Edition production signed by the Artist. Comes with a Certificate of Authenticity which affirms that this Art Work is an authentic Limited Edition production from James Christensen
share with us
Share your thoughts and comments on Icarus Bound Limited Edition Print by James Christensen Find us on Google+
James Christensen bio
"James C. Christensen was born in 1942 and raised in Culver City, California. He studied painting at Brigham Young University as well as the University of California at Los Angeles before finishing his formal education at BYU. Since then he has had one-man shows in the West and the Northeast and his work is prized in collections throughout the United States and Europe. Opulent, colorful, Shakespearean, extraordinary: All words that aptly portray Christensenís most popular artworks that have also been described as "creations from the land a little left of reality." He has created a Shakespearean Island, an entire undersea world and a village of Mother Goose characters. But when he isnít giving life to otherís worlds, he paints a place of his own. The result is a unique kinetic kingdom where recognizable human emotions are often manifested as fish or fowl, utilizing the viewerís own imagination as no other artist can. His art includes unique people, places and things that exist somewhere between adult dreams and childhood memories. "I donít think of myself as a fantasy artist," said Christensen. "I certainly have an affinity for myths, fables and ancient lore, but I also find time to create landscapes and other subjects which include commissions. Recent projects, for example, include a mural commission for a conference center in Nauvoo, Illinois, a poster for the 2001 Utah Shakespearean Festival and a sculpture for Nu-Skin. "Whatís truly important to me is that my art is introspective and in turn challenges the mindís eye of those who view it regardless of the subject matter." The artist has been commissioned by both Time/Life Books and Omni to create illustrations for their publications and his work has appeared in the prestigious American Illustration Annual and Japanís Outstanding American Illustrators. Christensen has also won all the professional art honors the World Science Fiction Convention can bestow, as well as multiple Chesley Awards from the Association of Science Fiction and Fantasy Artists. Christensenís fine art appears as works of art in porcelain and brass from The Greenwich Workshop Collection; artist-inspired products such as note cards, silk ties and books are also available. His first book, A Journey of the Imagination: The Art of James Christensen, was published to great acclaim in 1994. His second, the adventure fantasy Voyage of the Basset, has more than 75,000 copies in print. His subsequent book include the inventive Rhymes & Reasons, published in May 1997, Parables (written by Robert Millet, 1999), The Personal Illumination Series and The Personal Illumination Journal (2000), a series of interactive journals, A Shakespeare Sketchbook (2001) and James Christensen, Foremost Fantasy Artist (2001). Christensen was recently designated as a "Utah Art Treasure," one of Utahís Top 100 Artists by the Springville Museum of Art and received the Governorís Award for Art awarded by the Utah Arts Council recognizing the significance of Christensenís artwork to Utahís cultural communities. He was inducted into the U.S. Art magazineís Hall of Fame. Jim and his wife, Carole, co-chair the Mormon Arts Foundation. "