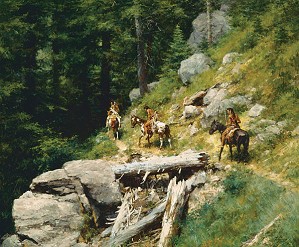 Enlarge Image

Change Wall Color
Tweet
Howard Terpning Trail In The Bitter Roots Masterwork Canvas Edition
Status: Available | Condition:New Unframed Art | Edition:Limited Edition | Edition Size: Limited Edition of 125 | Dim:46 x 38 | Howard Terpning | Item #: gwtrail
Price:$2,450.00
Howard Terpning Trail In The Bitter Roots Masterwork Canvas Edition
is eligible for layaway in 3 equal payments of $816.67 over 60 days.
4/23/2014 $816.67 1st payment
5/23/2014 $816.67 2nd payment
6/22/2014 $816.67 3rd & final payment
payments are automatically deducted from your credit card.
Available for purchase as of: April 23, 2014
As an option you may also pay for Howard Terpning Trail In The Bitter Roots Masterwork Canvas Edition using Paypal, or Amazon Payments. Please note that all orders must be delivered to a physical address verified by Paypal and Amazon. This PayPal/Amazon option is not applicable to orders to be delivered to Military or International orders.
Trail in the Bitter Roots MASTERWORK CANVAS EDITION
NOTES: This scene shows part of the old Lolo Trail used by the Nez Perce Indians when they left their home country in Idaho in 1877 and crossed over the Bitter Root range into the Bitter Root valley heading east in their attempt to reach Canada, says artist Howard Terpning.The trail was extremely rough and dangerous and yet hundreds of people managed to cross the mountains, including old people and children, with all their horses and goods. It was an amazing accomplishment. I could paint this portion of the trail with some authority since I spent two days riding the trail on horseback in the summer of 1985. It was this adventure that inspired me to do the painting. Howard Terpning is the most renowned and honored Western artist working today. His original paintings are out of reach for most of us but you can hang this signed Masterwork™ in your home or office for a fraction of the cost of one of his original paintings. He most recently was awarded the Thomas Moran Memorial Award for Painting at the Masters of the American West Fine Art Exhibition and Sale in February 2010 for his painting The Sound of a Distant Bugle.
Trail In The Bitter Roots Masterwork Canvas Edition , by Howard Terpning Is a Limited Edition production signed by the Artist. Comes with a Certificate of Authenticity which affirms that this Art Work is an authentic Limited Edition production from Howard Terpning
share with us
Share your thoughts and comments on Trail In The Bitter Roots Masterwork Canvas Edition by Howard Terpning Find us on Google+
Howard Terpning bio
"Quite simply, Howard Terpning is one of the most lauded painters of Western art. His awards are so numerous and he is honored with them so often, that to list them would require changing the count every few months. To name three would be to cite the highest prizes awarded to Western art: countless awards from the Cowboy Artists of America, the Hubbard Art Award for Excellence, the National Academy of Western Art's Prix de West and the Lifetime Achievement Award from the Autry National Center. Why such praise? Passion, compassion, devotion and respect for his subject matter, extraordinary talent in palette and brushstroke, an exceptional ability to evoke emotion both in his paintings and from those viewing them — all this and more has made Terpning the ""Storyteller of the Native American."" Born in Illinois and educated at the Chicago Academy of Fine Arts and the American Academy of Art, he first gained attention with his captivating advertising and story illustrations. Film fans praised his movie posters for such classics as The Sound of Music, Dr. Zhivago and the re-issue of Gone with the Wind. But his love of the West and Native American traditions saw his transition to fine art. Terpning is an Emeritus member of the Cowboy Artists of America, active for 22 years, during which time he was presented with a total of 41 awards. His book, The Art of Howard Terpning won the Wrangler ""Outstanding Art Book"" award from the National Cowboy Hall of Fame. Terpning was recently honored with a one-man show at the Eiteljorg Museum of American Indians and Western Art in Indianapolis, Indiana featuring 30 of the artist's most distinguished works where he was presented with the Lifetime Achievement Award. This career milestone was further celebrated with the publication of Spirit of the Plains People (2001, Greenwich Workshop Press). Terpning is the recipient of the Autry National Center, 2005 Masters of the American West Thomas Moran Memorial Award, given in recognition of exceptional artistic merit for painting. "