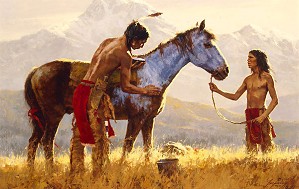 Enlarge Image

Change Wall Color
Tweet
Howard Terpning Horse Of A Different Color Limited Edition Canvas
Status: Available | Condition:New Unframed Art | Edition:Limited Edition | Edition Size: Limited Edition of 300 | Dim:20 x 13 | Howard Terpning | Item #: gwhorse
Price:$495.00
Howard Terpning Horse Of A Different Color Limited Edition Canvas
is eligible for layaway in 3 equal payments of $165.00 over 60 days.
4/16/2014 $165.00 1st payment
5/16/2014 $165.00 2nd payment
6/15/2014 $165.00 3rd & final payment
payments are automatically deducted from your credit card.
Available for purchase as of: April 16, 2014
As an option you may also pay for Howard Terpning Horse Of A Different Color Limited Edition Canvas using Paypal, or Amazon Payments. Please note that all orders must be delivered to a physical address verified by Paypal and Amazon. This PayPal/Amazon option is not applicable to orders to be delivered to Military or International orders.
Horse of a Different Color LIMITED EDITION CANVAS
NOTES: I once read an account of a Cheyenne warrior who painted his body and his horse's body entirely blue, says Howard Terpning.Just imagine the startling effect that must have had on his enemies as he charged them in battle. That description gave me the idea for the title (which seemed obvious). Adding the warrior's son in the painting felt logical and gave the picture a higher level of human interest. To have listened in on the father and son conversation as this warrior prepared himself for battle would have been something. As we made the selection of this painting to reproduce, it occurred to us that this is the first Terpning work we have published that focused so directly on the relationship between a father and a son. It surprised us that there were actually so few paintings he had done on the subject. We think that makes this release kind of special. By the way, Howard's son Steven modeled for the boy. The other unique aspect of this release is its physical size. It is larger than a SmallWorks™, but is still of a size that compliments the intimate nature of the story.
Horse Of A Different Color Limited Edition Canvas , by Howard Terpning Is a Limited Edition production signed by the Artist. Comes with a Certificate of Authenticity which affirms that this Art Work is an authentic Limited Edition production from Howard Terpning
share with us
Share your thoughts and comments on Horse Of A Different Color Limited Edition Canvas by Howard Terpning Find us on Google+
Howard Terpning bio
"Quite simply, Howard Terpning is one of the most lauded painters of Western art. His awards are so numerous and he is honored with them so often, that to list them would require changing the count every few months. To name three would be to cite the highest prizes awarded to Western art: countless awards from the Cowboy Artists of America, the Hubbard Art Award for Excellence, the National Academy of Western Art's Prix de West and the Lifetime Achievement Award from the Autry National Center. Why such praise? Passion, compassion, devotion and respect for his subject matter, extraordinary talent in palette and brushstroke, an exceptional ability to evoke emotion both in his paintings and from those viewing them — all this and more has made Terpning the ""Storyteller of the Native American."" Born in Illinois and educated at the Chicago Academy of Fine Arts and the American Academy of Art, he first gained attention with his captivating advertising and story illustrations. Film fans praised his movie posters for such classics as The Sound of Music, Dr. Zhivago and the re-issue of Gone with the Wind. But his love of the West and Native American traditions saw his transition to fine art. Terpning is an Emeritus member of the Cowboy Artists of America, active for 22 years, during which time he was presented with a total of 41 awards. His book, The Art of Howard Terpning won the Wrangler ""Outstanding Art Book"" award from the National Cowboy Hall of Fame. Terpning was recently honored with a one-man show at the Eiteljorg Museum of American Indians and Western Art in Indianapolis, Indiana featuring 30 of the artist's most distinguished works where he was presented with the Lifetime Achievement Award. This career milestone was further celebrated with the publication of Spirit of the Plains People (2001, Greenwich Workshop Press). Terpning is the recipient of the Autry National Center, 2005 Masters of the American West Thomas Moran Memorial Award, given in recognition of exceptional artistic merit for painting. "