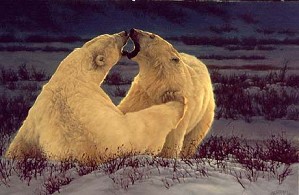 Enlarge Image

Change Wall Color
Tweet
Greg Beecham Polar Attraction Limited Edition Print
Status: Available | Condition:New Unframed Art | Edition:Limited Edition | Edition Size: Limited to 550 | Dim:27 x 19.5 | Greg Beecham | Item #: GB00010
Price:$185.00
Available for purchase as of: April 20, 2014
As an option you may also pay for Greg Beecham Polar Attraction Limited Edition Print using Paypal, or Amazon Payments. Please note that all orders must be delivered to a physical address verified by Paypal and Amazon. This PayPal/Amazon option is not applicable to orders to be delivered to Military or International orders.
POLAR ATTRACTION, LIMITED EDITION PRINT
NOTES: Greg's artistic approaches are as varied as the wildlife he portrays, so when he told us The Cascades would be followed up by another bear portrait, we knew it would be distinctly different. The title Polar Attraction suggests courtship, but as Greg explains,these polar bears have a strictly platonic relationship. They're siblings enjoying some gentle sparring to keep up their strength for the season of hunting ahead. It was a challenge to work 'wet on wet,' making a transition from the cool colors below ultimately to the warm ones on top. I also wanted to achieve a color harmony between the background and the focal point, helping to convey the scene's peaceful, playful mood. Published from the artist's original oil painting.
Polar Attraction Limited Edition Print , by Greg Beecham Is a Limited Edition production signed by the Artist. Comes with a Certificate of Authenticity which affirms that this Art Work is an authentic Limited Edition production from Greg Beecham
share with us
Share your thoughts and comments on Polar Attraction Limited Edition Print by Greg Beecham Find us on Google+
Greg Beecham bio
"The son of the artist Tom Beecham, Greg grew up hunting, fishing, observing nature and learning to draw—always aware of a yearning to follow in his father's footsteps. He remembers standing for hours with his dad, studying the movements of whitetail deer in the woods behind their home. His dream of studying full-time with his father had to be postponed until Greg completed a tour in the U.S. Navy. He enlisted as a hospital corpsman and served on the Guided Missile Destroyer the USS John S. McCain, which sailed home from Vietnam just six days after Beecham reported for duty. Finally, in 1978, after a few years at Southern Oregon State College, father and son dedicated themselves to developing Greg's fine art career. At an art show in 1985, Beecham was further inspired by Bob Kuhn, who gave me "permission," as Greg puts it, to play with paint. Since then, Beecham has won many awards for his fluid unions of animal and environment, including Best of Show, People's Choice and Artist's Choice awards at the C.M. Russell Auction; Best of Show, People's Choice and Featured Artist honors at the Pacific Rim Wildlife Art Show, and the Wildlife Art News Award at the Society of Animal Artist's Art Exhibition. He was just asked to be special guest artist at the '99 Southeastern Wildlife Exposition. In addition, Beecham's artwork has been exhibited in the Museum of Natural History in Beijing, China and is in the permanent collection of the Leigh Yawkey Woodson Museum and the Clymer Museum in Ellensburg, Washington. A devout Christian, Greg Beecham honors the beauty of creation while raising his children to become productive, caring people and remaining a loving husband to his wife of more than twenty years. "I try to create interesting compositions, complimented by dynamic color harmonies, light and value," he says. "My motto? Do all things unto the Lord and get so good you can't be ignored.""