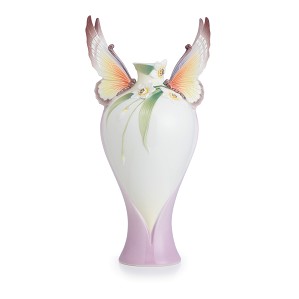 Enlarge Image

Change Wall Color
Tweet
Franz Porcelain Papillon Butterfly Porcelain Vase Limited Edition Fine Porcelain FZ02724
Status: Available | Condition:New | Edition:Franz Limited Edition VasesFine Porcelain | Edition Size: Limited Edition of 2000 | Dim:7-1/4" x 5-1/2" x 14-5/8" | Franz Porcelain | Item #: FZ02724
Price:$535.00 Add to Cart to see Gallery Price.
Franz Porcelain Papillon Butterfly Porcelain Vase Limited Edition Fine Porcelain
is eligible for layaway in 3 equal payments of $178.33 over 60 days.
4/23/2014 $178.33 1st payment
5/23/2014 $178.33 2nd payment
6/22/2014 $178.33 3rd & final payment
payments are automatically deducted from your credit card.
Available for purchase as of: April 23, 2014
As an option you may also pay for Franz Porcelain Papillon Butterfly Porcelain Vase Limited Edition Fine Porcelain Fine Porcelain using Paypal, or Amazon Payments. Please note that all orders must be delivered to a physical address verified by Paypal and Amazon. This PayPal/Amazon option is not applicable to orders to be delivered to Military or International orders.
Papillon Butterfly Porcelain Vase Limited Edition Fine Porcelain
NOTES: This elegant Papillon Butterfly Ltd Edition Porcelain Vase by Franz Collection captures the beauty of the butterflies in sophisticated and feminine style. It is limited to an edition of 2,000. Handcrafted in the finest sculptured porcelain. Hand painted in soft colors by the talented artists at Franz.
Papillon Butterfly Porcelain Vase Limited Edition Fine Porcelain Fine Porcelain, by Franz Porcelain is a Limited Edition production signed by the Artist. Comes with a Certificate of Authenticity which affirms that this is an authentic Limited Edition production from Franz Porcelain
share with us
Share your thoughts and comments on Papillon Butterfly Porcelain Vase Limited Edition Fine Porcelain by Franz Porcelain Find us on Google+
Franz Porcelain bio
Franz Collection is the number one porcelain art designer and producer in Asia. With its headquarters in Taipei and factory in Jingdezhen (the porcelain capital of China), the company owns 200 retail stores in Asia and has marketed its functional art to several thousands of retailers in 56 countries, including prominent department stores such as Harrods, Bloomingdale's and Bergdorf Goodman. Franz Collection aims to revive Chinese porcelain heritage and integrates classical, contemporary, Western and Eastern aesthetics. Inspired by nature, the brand intends to interpret the perfection and harmony among Heaven, Earth and Mankind and deliver the eternal values of culture. The company is able to produce three-dimensional porcelain art with traditional handicraft and modern technology. Franz Collection has worked with different international partners, including the Van Gogh Museum in Amsterdam, the National Palace Museum in Taipei, the Palace Museum in Beijing and the Philadelphia Museum of Art in the U.S. These museums have licensed the company to transform some of their important collections into porcelain art. Franz Collection did special shows in Europe's largest porcelain museum Porzellanikon Selb in Germany and French national porcelain museum Adrien Dubouche in Limoges in recognition of its global influence on this ancient art form. Featured in numerous media including the New York Times, the Financial Times, the Wall Street Journal and Elle Décor, the company has also obtained academic recognition. The Harvard University Business School used Franz Collection as a case study in their publication. Franz Collection has won numerous awards, including "the Best in Gift" award from the New York International Gift Show, "The Best for Ceramic Gift" from the UK and "Seal of Excellence for Handicrafts" from UNESCO 5 years in a row. In 2012 the CEO of the company Mr. Franz Chen was chosen by Forbes as one of the "25 Influential Chinese in Global Fashion". He also won the award of "Entrepreneur of the Year 2012" and represented Taiwan in the World Entrepreneur contest. The former Chinese President Hu chose Franz as gifts for the American President Obama, British Prime Minister Brown and Russian President Putin while former American President Bush Senior picked Franz as Christmas gifts for his family and friends. The Taiwanese President Ma presented Franz as gifts for the new Pope Francis. Other celebrities that picked Franz as gifts or collect Franz include Barbara Streisand, Elton John, the Queen of Nepal, the Princess of Kuwait and the Prince of Morocco. With a style that is unique, inviting, stylish, cultural and artistic, the brand continues its innovative path, providing the world with perfect gifts, home décor and functional art.