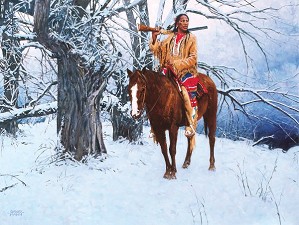 Enlarge Image

Change Wall Color
Tweet
David Mann Winter Stillness By David Mann Giclee On Canvas Artist Proof
Status: Available | Condition:New | Edition:Limited Edition | Edition Size: Limited Edition Of 95 | Dim:21 x 28 | David Mann | Item #: DMA009GIAPR2128
Price:$395.00
David Mann Winter Stillness By David Mann Giclee On Canvas Artist Proof
is eligible for layaway in 3 equal payments of $131.67 over 60 days.
4/24/2014 $131.67 1st payment
5/24/2014 $131.67 2nd payment
6/23/2014 $131.67 3rd & final payment
payments are automatically deducted from your credit card.
Available for purchase as of: April 24, 2014
As an option you may also pay for David Mann Winter Stillness By David Mann Giclee On Canvas Artist Proof using Paypal, or Amazon Payments. Please note that all orders must be delivered to a physical address verified by Paypal and Amazon. This PayPal/Amazon option is not applicable to orders to be delivered to Military or International orders.
Winter Stillness by David Mann Giclee on Canvas Artist Proof
NOTES: David Mann paints the Native Americans with an intimate knowledge of their culture. This current work is a quiet, wintry landscape in which a lone warrior on his horse waits among the snow-covered branches of a tree. With his rifle over his shoulder, perhaps this warrior has detected an animal and is on guard for the opportunity to return to his camp with sustenance for everyone.
Winter Stillness By David Mann Giclee On Canvas Artist Proof , by David Mann David Mann
share with us
Share your thoughts and comments on Winter Stillness By David Mann Giclee On Canvas Artist Proof by David Mann Find us on Google+
David Mann bio
David Mann's life focus has been his interest in the Native American culture, horses, and art. As a child, the artist collected any Remington and Russell prints he found along with books illustrated by Will James, Paul Brown, and Wesly Dennis. Mann knows his subjects well from studying the history and culture of the Western Indian tribes. Born in Utah, the artist lived among the Southwestern tribes during a two-year mission in New Mexico and Arizona. During his time with the San Carlos Apache, Navajo, and Pueblo tribes, Mann absorbed layers of meaning that give depth to the human stories he tells. This unforgettable and invaluable time spent with the Indians allowed the artist to experience first-hand the stories, dignity, and culture magic of their lives. Mann's paintings are alive in rich colors, remarkable illusion of day and moonlight, and energetic or quiet compositions. The artist seeks to capture the personal moment of truth and has the benefit of working with Indian and mountain men who model for him. Mann looks deeply into his subjects, envisioning the joys and sorrows that have contributed to the strength of a culture. The artist's paintings are known for careful attention to detail including clothing, saddles, jewelry, and the many other symbols and accoutrements that are part of his subjects' cultures. The combination of heart and mind, and intellect and spirit is told in the dignified presence of the Native Americans featured in the historic settings in which the artist paints them. Mann's images portray the spirits of the historic, as well as the contemporary west, usually depicting moments in time rather than historical events when deeply rooted traditions provided spiritual and physical sustenance for the Native Americans. Mann's original paintings are highly collected. The artist participates in several annual art exhibits around the country; he has been the subject of numerous magazine articles.