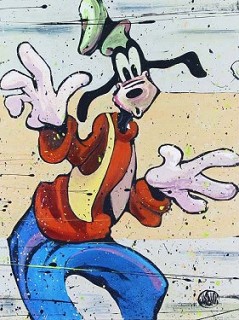 Enlarge Image

Change Wall Color
Tweet
David Garibaldi Disney Goof It Up
Status: Available | Condition:New Unframed Art | Edition:Limited Edition | Edition Size: 95 | Dim:24 x 18 | David Garibaldi Disney | Item #: cedggu
Price:$495.00
David Garibaldi Disney Goof It Up
is eligible for layaway in 3 equal payments of $165.00 over 60 days.
4/24/2014 $165.00 1st payment
5/24/2014 $165.00 2nd payment
6/23/2014 $165.00 3rd & final payment
payments are automatically deducted from your credit card.
Available for purchase as of: April 24, 2014
As an option you may also pay for David Garibaldi Disney Goof It Up using Paypal, or Amazon Payments. Please note that all orders must be delivered to a physical address verified by Paypal and Amazon. This PayPal/Amazon option is not applicable to orders to be delivered to Military or International orders.
Goof it Up
NOTES: Hand-Embellished Giclée on Hand-Textured Canvas
Goof It Up , by David Garibaldi Disney David Garibaldi Disney
share with us
Share your thoughts and comments on Goof It Up by David Garibaldi Disney Find us on Google+
David Garibaldi Disney bio
Rhythm, Color, Culture, Energy; These Four words describe the experience viewing the creations of world renowned Artist David Garibaldi. Born in Los Angeles in 1982, Garibaldi began creating at a young age. After relocating and growing up in Sacramento, it was not until high school, after walking away from a life of graffiti in the streets, that he turned his influences of hip hop culture into a positive direction. Unfortunately by then, it was too late to make up lost time in school, and he could not graduate. A season of hard times to come could not shake the drive of this young artist from pursuing his dreams.