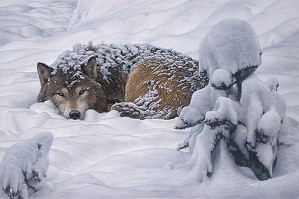 Enlarge Image

Change Wall Color
Tweet
Daniel Smith Winters Embrace Limited Edition Canvas
Status: Available | Condition:New Unframed Art | Edition:Limited Edition | Edition Size: Limited Edition of 100 | Dim:24 x 16 | Daniel Smith | Item #: gwwinter
Price:$595.00
Daniel Smith Winters Embrace Limited Edition Canvas
is eligible for layaway in 3 equal payments of $198.33 over 60 days.
4/23/2014 $198.33 1st payment
5/23/2014 $198.33 2nd payment
6/22/2014 $198.33 3rd & final payment
payments are automatically deducted from your credit card.
Available for purchase as of: April 23, 2014
As an option you may also pay for Daniel Smith Winters Embrace Limited Edition Canvas using Paypal, or Amazon Payments. Please note that all orders must be delivered to a physical address verified by Paypal and Amazon. This PayPal/Amazon option is not applicable to orders to be delivered to Military or International orders.
Winters Embrace LIMITED EDITION CANVAS
NOTES: In the mid-1990s, when wolves (which had been eradicated from the park) were reintroduced to Yellowstone, Daniel Smith worked with the Yellowstone Wolf Recovery Project, hiking through the park to observe the habits and environmental impact of the newly introduced wolves. Since then, wolves have become one of his favorite subjects and he paints them in all seasons. Living in the mountains of Montana has provided me with ample time to experience snow, says Smith.Fresh snow creates wonderful textures and a quiet serenity that is always inspiring. Wolf reintroduction in the West has rekindled my interest in this extraordinary predator. My paintings are a reflection of many years of field work and my passion for the natural world. My objective is to share my passion through a scientifically accurate, realistic painting while maintaining artistic integrity.
Winters Embrace Limited Edition Canvas , by Daniel Smith Is a Limited Edition production signed by the Artist. Comes with a Certificate of Authenticity which affirms that this Art Work is an authentic Limited Edition production from Daniel Smith
share with us
Share your thoughts and comments on Winters Embrace Limited Edition Canvas by Daniel Smith Find us on Google+
Daniel Smith bio
Painter Daniel Smith, who is equal parts hermit, aesthete, and explorer of the outback, has never thought of himself as being a visual provocateur. Who could have thought that classical wildlife art would one day be considered simultaneously accessible and avant-garde? Who would have guessed that images of animals would loom large as perhaps the most potent icons of our time? Animals are telltale totems, not only of the past, but of a yet uncertain future. The opening of the one-man exhibition, "Animal Magnetism: The Wildlife Art of Daniel Smith" at the Eiteljorg Museum of American Indians and Western Art in 2008 was validation of Smith's growing stature in this unique and provocative artistic genre. "In my opinion, Dan Smith is truly one of America's great wildlife painters," says John Geraghty, board member of the Autry Museum of the American West in Los Angeles and a prominent art collector. Over the last decade, Smith's original pieces have been exhibited at, or become part of permanent collections at the Eiteljorg, the Autry, the National Cowboy & Western Heritage Museum, the National Museum of Wildlife Art, the Hiram Blauvelt Art Museum, the Leigh Yawkey Woodson Art Museum, The Bennington Center for the Arts, The Wildlife Experience, The Leanin Tree Museum of Western Art and the Ella Sharp Museum of Art and History. Today, Smith and his wife, Liz, the parents of three