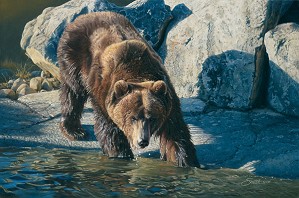 Enlarge Image

Change Wall Color
Tweet
Daniel Smith Retreat From The Heat Limited Edition Canvas
Status: Available | Condition:New Unframed Art | Edition:Limited Edition | Edition Size: Limited to 150 | Dim:18 x 12 | Daniel Smith | Item #: DN00008
Price:$345.00
Daniel Smith Retreat From The Heat Limited Edition Canvas
is eligible for layaway in 3 equal payments of $115.00 over 60 days.
4/24/2014 $115.00 1st payment
5/24/2014 $115.00 2nd payment
6/23/2014 $115.00 3rd & final payment
payments are automatically deducted from your credit card.
Available for purchase as of: April 24, 2014
As an option you may also pay for Daniel Smith Retreat From The Heat Limited Edition Canvas using Paypal, or Amazon Payments. Please note that all orders must be delivered to a physical address verified by Paypal and Amazon. This PayPal/Amazon option is not applicable to orders to be delivered to Military or International orders.
Retreat from the Heat, LIMITED EDITION CANVAS
NOTES: Acclaimed for his depictions of the natural world, Daniel Smith is one of the countrys foremost wildlife artists. The surroundings in his native southwest Montana continue to inspire him and provide him with the opportunity to paint from personal experience, which gives his work both striking detail and stirring realism. Smith has admitted an attraction to predators and dangerous game and his affinity for great bears is apparent in Retreat from the Heat. As the harsh morning sun heats the earth, the only cool surface available to this magnificent grizzly bear is a rushing stream. The wet fur on his belly and legs attest to the bears love of the water as he plunges in with his massive front paws. The water itself looks so inviting and the sun, so harsh, that you may have to stop yourself from attempting to share this grizzlys Retreat from the Heat.
Retreat From The Heat Limited Edition Canvas , by Daniel Smith Is a Limited Edition production signed by the Artist. Comes with a Certificate of Authenticity which affirms that this Art Work is an authentic Limited Edition production from Daniel Smith
share with us
Share your thoughts and comments on Retreat From The Heat Limited Edition Canvas by Daniel Smith Find us on Google+
Daniel Smith bio
Painter Daniel Smith, who is equal parts hermit, aesthete, and explorer of the outback, has never thought of himself as being a visual provocateur. Who could have thought that classical wildlife art would one day be considered simultaneously accessible and avant-garde? Who would have guessed that images of animals would loom large as perhaps the most potent icons of our time? Animals are telltale totems, not only of the past, but of a yet uncertain future. The opening of the one-man exhibition, "Animal Magnetism: The Wildlife Art of Daniel Smith" at the Eiteljorg Museum of American Indians and Western Art in 2008 was validation of Smith's growing stature in this unique and provocative artistic genre. "In my opinion, Dan Smith is truly one of America's great wildlife painters," says John Geraghty, board member of the Autry Museum of the American West in Los Angeles and a prominent art collector. Over the last decade, Smith's original pieces have been exhibited at, or become part of permanent collections at the Eiteljorg, the Autry, the National Cowboy & Western Heritage Museum, the National Museum of Wildlife Art, the Hiram Blauvelt Art Museum, the Leigh Yawkey Woodson Art Museum, The Bennington Center for the Arts, The Wildlife Experience, The Leanin Tree Museum of Western Art and the Ella Sharp Museum of Art and History. Today, Smith and his wife, Liz, the parents of three