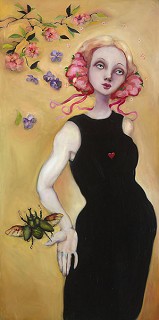 Enlarge Image

Change Wall Color
Tweet
Cassandra Barney Theodosia Limited Edition Canvas
Status: Available | Condition:New Unframed Art | Edition:Limited Edition | Edition Size: Limited to 50 | Dim:14 x 28 | Cassandra Barney | Item #: CCB0027
Price:$495.00
Cassandra Barney Theodosia Limited Edition Canvas
is eligible for layaway in 3 equal payments of $165.00 over 60 days.
4/24/2014 $165.00 1st payment
5/24/2014 $165.00 2nd payment
6/23/2014 $165.00 3rd & final payment
payments are automatically deducted from your credit card.
Available for purchase as of: April 24, 2014
As an option you may also pay for Cassandra Barney Theodosia Limited Edition Canvas using Paypal, or Amazon Payments. Please note that all orders must be delivered to a physical address verified by Paypal and Amazon. This PayPal/Amazon option is not applicable to orders to be delivered to Military or International orders.
Theodosia, LIMITED EDITION CANVAS
NOTES: The name Theodosia means Gods gift in Greek. The scarab beetle, an Egyptian symbol of resurrection, flies close to her hand. Theodosia is about embracing spirituality, says the artist. We dont know if shes reaching for the beetle or letting it go, but its never far away. Teh gentle golden glow on Theodosias hair suggests a heavenly countenance just may be keeping watch.
Theodosia Limited Edition Canvas , by Cassandra Barney Is a Limited Edition production signed by the Artist. Comes with a Certificate of Authenticity which affirms that this Art Work is an authentic Limited Edition production from Cassandra Barney
share with us
Share your thoughts and comments on Theodosia Limited Edition Canvas by Cassandra Barney Find us on Google+
Cassandra Barney bio
BIOGRAPHY "Cassandra Christensen Barney was born and raised in Orem, Utah. She received her Master's degree in Fine Arts from Brigham Young University in 2000. "I've had a passion for the craft of the portrait since I was a child. As a young girl, I visited museums around the world with my father, collecting postcards adorned with 16th century art. Exploring these simple images captured my imagination, unlocking a world of discovery. I love the art of storytelling, the layers of symbolism, and would create my own stories of these quiet women, making the paintings my own. Today I paint portraits that share my passion for storytelling while revealing my personal journey of transition and discovery." Christensen Barney's images capture the souls of heroines, everyday women who have found strength and personal victory in their diverse experiences. Her portraits carry a range of emotion reflective of the events that have shaped their character. Ambiguous and poignant, Cassandra's women find strength in their femininity. "They are beautiful and strong, because of the complexity of their feminine nature" "My portraits may not always feature the outwardly pretty or majestic, but they all share a quiet beauty that asks us to listen and to feel. My work reflects my personal narrative, yet my intent as an artist is to create an experience that will allow the viewers to bring new interpretations to the symbols, creating their own narrative and own sense of understanding and place." Christensen Barney and her father, James C. Christensen, delight in working together. "My Dad inspires me to experiment with my own style, media and interpretation. Painting together in his studio, we have developed a wonderful synergy, critiquing each other and encouraging each other to experiment with colors, surfaces and textures." Life is truly art at Christensen Barney's home as her husband is also an artist and teacher. Her three daughters enjoy creating along side their parents. In addition to her children, Barney encourages many others to explore the world of art. She taught at The Waterford School for four years and part time at BYU. The Barney family will relocate to Vancouver, Canada this fall where her husband Dan will pursue his doctorate in curriculum studies at UBC. "