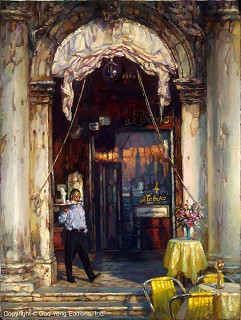 Enlarge Image

Change Wall Color
Tweet
Cao Yong Le Bistro Artist Proof
Status: Available | Condition:New Unframed Art | Edition:Limited Edition | Edition Size: Limited Edition 450 H/E 45 A/P | Dim:16" x 12" | Cao Yong | Item #: LeBistro.
Price:$850.00
Cao Yong Le Bistro Artist Proof
is eligible for layaway in 3 equal payments of $283.33 over 60 days.
4/25/2014 $283.33 1st payment
5/25/2014 $283.33 2nd payment
6/24/2014 $283.33 3rd & final payment
payments are automatically deducted from your credit card.
Available for purchase as of: April 25, 2014
As an option you may also pay for Cao Yong Le Bistro Artist Proof using Paypal, or Amazon Payments. Please note that all orders must be delivered to a physical address verified by Paypal and Amazon. This PayPal/Amazon option is not applicable to orders to be delivered to Military or International orders.
Le Bistro Artist Proof
NOTES: Le Bistro Artist Proof
Le Bistro Artist Proof , by Cao Yong Is a Limited Edition production signed by the Artist. Comes with a Certificate of Authenticity which affirms that this Art Work is an authentic Limited Edition production from Cao Yong
share with us
Share your thoughts and comments on Le Bistro Artist Proof by Cao Yong Find us on Google+
Cao Yong bio
"I was born in a small town that the sea winds could never reach, and I lived on the snow-capped Tibetan Plateau. The first time I lay my eyes on the ocean it was like to pull back the curtain of my soul. The stunning curves of the coastline, the twinkling stars reflected on the dark water, a boat swaying with the breeze. It drives me from one dream to another. With great joy, I cannot stop myself from grabbing my paint brush and putting them to canvas. I want to share this joy with everyone who loves dreams".